How to Download Torrent Safely and Anonymously
How to Download Torrent Safely and Anonymously
By admin No Comments 8 minutes
Torrenting in this digital age comes with a backlash. There is a flipside to everything and torrenting is no exemption. Many government and law enforcing agencies keep a watch for torrent websites that they can take down. They seek information of those who are contributing and benefiting from these streams. Though torrenting is not illegal, it is better to avoid detection and prevent the unnecessary hustle and bustle. To achieve this, there are multiple options that let you hide your identity and torrent anonymously.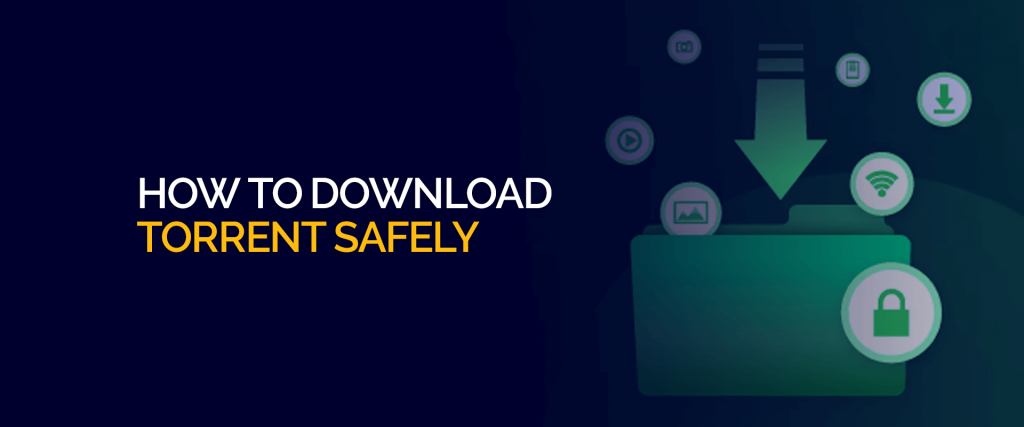 What is Torrenting?
Just as the name suggests, Torrent is fast-moving file sharing over the internet. A torrent is a file that simply has the function of storing metadata that uTorrent and similar programs use to download data on the computer it is being run on.
BitTorrent is a way to download files – a content distribution protocol – using distributed P2P sharing system of large files being Movies, TV Shows, and other public domain videos. The users can in turn also serve as network redistribution points. Portions of a downloaded Torrent are thus enabled to be shared with other users who have only downloaded them partially so far.
Programs that are used to download files using BitTorrent protocol are described as BitTorrent Clients. BitTorrent Clients use Torrent as a file extension compatible with BitTorrent file format. The Torrent files pertain text that calls attention to trackers to begin a download. Requesting clients download from distributors; leechers downloading from seeders.
Instead of sending a download to every requesting client (leecher), the distributor (seeder) sends it to one of the requesting clients who, then, in turn, share with other clients who stay connected to seed the completed torrent to other clients (leeches). This is explained as "swarming, scatter and gather" file transfer protocol. This method of distribution is gradually diminishing the need for large servers.
In summation, BitTorrent is speedy, swift, quick and easy method downloading! To make it faster and secure simultaneously; use the VPN for torrenting that Fastest VPN has to offer.
Check the Comments before Downloading
Comments and reviews are always helpful. It is always better to learn from other's experience, so it is easy for you to know the pros and cons without having to jump in such a situation yourself. The comments section can assist you in determining whether a file contains any viruses. If there are lots of comments and an active discussion going on about a potential virus, you definitely want to avoid that one. If not, you are good to go!
Avoid File Types that are Prone to Viruses
There are certain file types that are open to transfer viruses. Avoid files that download as executable files such as .BAT and .EXE, they are deemed most common to transmit viruses and thus cracked programs are the riskiest files that can be downloaded on your computer through torrents.
Understand How Torrents Connect
It is essential for your IP address to be public to anyone you share a downloaded torrent file with. However, this makes you vulnerable and compromises your privacy to agencies – such as government, internet service providers, and law enforcement agencies – who keep track of torrent traffic. Once you understand how torrents connect, there are steps you can to take to minimize the dangers that come with downloading torrents and preventing internet service providers from controlling your speed.
The Legal Challenges around Torrents
To conceptually clear the concerns of the majority: torrenting is not an illegal act. However, you may stir up trouble depending on what sites and content you access. Torrent users unintentionally download content that is protected by copyright and thus sometimes end up in a legal problem. The consequences can be serious as users can be charged for illegally downloading copyrighted files while using the torrent software.
People have started using services that give them privacy online and lets them torrent anonymously to avoid the technical hitches linked with torrenting. There are a few options that users can opt to download torrent safely anonymously and invisibly. After weighing pros and cons, people either use Tor network or most preferably use VPN for torrenting.
Consider a VPN Service
A VPN is the best when it comes to keeping you secure while downloading torrent files anonymously. It encrypts internet traffic and hides your IP from peers. It ensures your privacy against agency spying, unauthorized hackers, ISP monitoring and all other prying eyes.
To wholly secure and maintain anonymity over your torrent experience, sign up for a VPN. You will have to pay yearly subscriptions, but your hidden torrent traffic and complete anonymity will all be worth it. Your internet provider will not be able to track you transferring and downloading torrent data and thus will also not be able to intervene with the connection or speed. Prying agencies who track IP addresses and their activities, cannot see your exact location as your real IP is hidden from any third party.
There are VPNs that maintain records and may be forced to give it to law regulation agencies. So when selecting a VPN for yourself, make sure to go for one that has a policy of zero log keeping.
BTGuard
BTGuard is a proxy service that hides your IP from the rest of the public. This service is compatible with mostly all devices such as Mac, Windows, and Linux. For added high-level security, some VPNs include encryption tunnel software. This is specifically beneficial for those using it with BitTorrent.
Torrent Privacy
This is the second best alternative after VPN. It comes very handy for users of BitTorrent. Torrent Privacy ensures full anonymity while downloading shows and movies online. It is fast and secure but the flipside is that it is only available on Windows and users of other devices cannot have access to it. In the meantime, Windows users can download torrent safely anonymously ditching their worries about legal hassles.
ANOMOS
The Anomos team claims that Anomos is based on peer and tracker concept picked up from BitTorrent. It is said to be paired with an onion routing anonymization layer which also has end-to-end encryption.
BitTorrent users can use this free multi-platform solution to hide their IP address. One disadvantage is that it uses its own .atorrent file format which is not compatible with all torrent files. Another is that download speeds are lower than normal BitTorrent transfers.
Seedbox
Seedbox is a jargon for BitTorrent which is a dedicated high-speed server. It is an optimized server used exclusively for torrent transfers of P2P files. Users get high download speeds with seedbox while also keeping their IP address hidden from the public. After the download is complete, users can download the files to their computer with a speedy HTTP connection. Seamlessly download your favorite shows and movies at high speeds.
Free Vs Paid P2P File-Sharing Services?
The answer is quite straightforward and obvious. If a service is paid despite having competition in the market, it is obvious that they are confident about the service they provide and they also offer other top services that others don't. Opt for paid service whenever you want to download torrent safely anonymously because even though free alternatives are available online, there is an opportunity cost that can cost you way more than a paid service would cost.
An example at hand would be of a free VPN. It is not necessary that they provide a fool-proof security system. They probably maintain logs of your web activity and you may have ads popping up which indicates that your data may be compromised with marketing companies. Free VPNs also have slower speeds since P2P server has a high maintenance cost. This would not be the case with a paid VPN that you would carefully select.
Conclusion
At the end of the day, the decision is the user's court. Out of all the options stated, essentially all serve the purpose though it is out and clear that a VPN is the best choice. Though, it is for torrent users to decide whether they want a free VPN or a paid one for anonymous torrenting. However, we advise that a user should sign up for a paid service like FastestVPN as that would cost you less as compared to the consequences you would face if your privacy gets comprised. Don't get caught up in legal hassles and look at the bigger picture. Make a smart choice and torrent anonymously with FastestVPN.

Take Control of Your Privacy Today!
Unblock websites, access streaming platforms, and bypass ISP monitoring.
Get FastestVPN