How to Download Games on PS4
How to Download Games on PS4
By Nick Anderson No Comments 5 minutes
The holiday season is right around the corner, which means that the number of PS4 owners will only increase this year. PS4 is one of the most popular video-games consoles globally, with over 100 million users worldwide. There are thousands of games on the console that you can check out and play online with other gamers. If you just received a PS4 or plan on buying on this Black Friday or Christmas, you need to know the essentials, especially how to download games on PS4.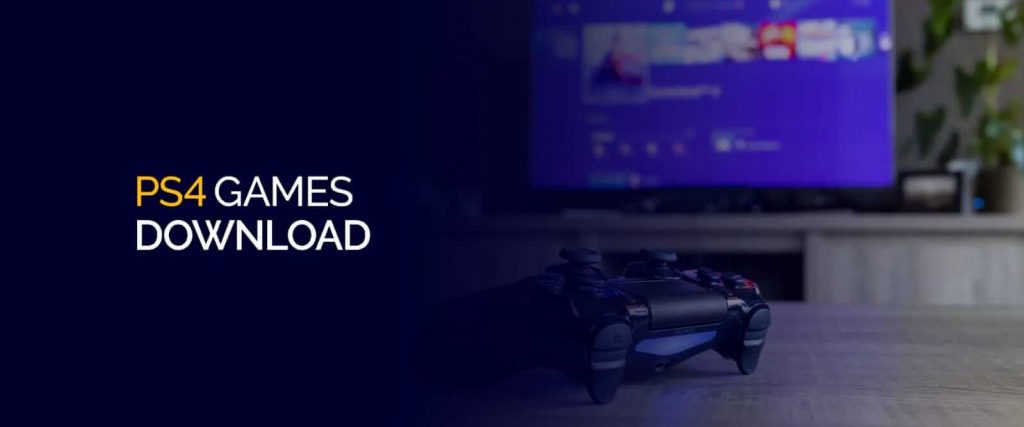 Let us take you through how downloading on PS4 works and what you need to get started.

What You Need to Download Games on PS4
You can buy PS4 games on disc or digitally. Disc-based games are available at physical and online retailers worldwide. Digital games are sold through the PlayStation Store.
PlayStation Store is part of PlayStation Network, an online platform to connect millions of PlayStation gamers worldwide for online gaming. To download PS4 games, head to the store, search for a game that you like or browse through the highlights, select and game, and click on buy to proceed to the checkout and enter your payment method and details to confirm the purchase.
But before you can do all that, you need to sign up for the PlayStation Network. As a new PS4 owner, one of the first steps is to create a PSN ID. Although you can play games offline without a PSN ID just fine, you cannot access the many features the console offers, such as online multiplayer. Not to mention that you cannot update your games.
How Can I Purchase Games on PS4?
Buying digital games on PS4 requires a credit card or currency in your digital wallet. The billing address of your credit card must match the region of your PSN ID. The region is dependant on the country and address you put in while signing up for a PSN account.
The other option is to buy PSN gift cards that you can use to add funds to your digital wallet. PSN gift cards can be purchased at retailers or online retailers. You can buy a $50 PSN gift card, then add the funds which you can use to purchase games or other items in the store. Like the credit card, the gift card's currency is tied to the region of your PSN account. It is not possible to redeem a USA PSN gift card on an Australian PSN account.
How to Download PS4 Games
Once you have purchased a game, it will become available for download. Click on the download button to begin. You will be notified when the game has been downloaded and installed.
You can download deleted PS4 games again by going into My Library > Purchased. Select a game and go to its product page, then click on the download button.
How to Download PS4 Games Remotely?
Did you know that you can control PS4 games downloads remotely via the web? You could be sitting at the office while the game downloads at home so that the game is ready for you when you reach home after a long and tiring day.
Some options need to be enabled in PS4 settings first before you can download PS4 games remotely. Here's how to enable remote control on PS4:
On your PS4, go to Settings > Power Saving Settings > Set Features Available in Rest Mode.
Check the boxes for Stay Connected to the Internet and Enable Turning on PS4 from Network. This will let the PS4 stay connected while it's in rest mode for remote downloads to work.
Return to Settings, go to System > Automatic Downloads. Tick the boxes for System Software Update Files and Application Update Files.
The PS4 is now ready to receive remote automatic download instructions. You can now use the PlayStation App on your phone or sign in to PlayStation Store through a web browser to download games. After purchasing a game, click on download from Library.
Download Free PS4 Games
PS4 is home to many free games that you can download and start playing immediately. These are titled "free-to-play" in the store' category.
Games like Fortnite, Call of Duty: Warzone, Apex Legends, Genshin Impact, Rocket League are examples of free PS4 games. Head to the PlayStation Store and explore the Free-to-Play category for more options.
Do I Need a VPN for PS4?
VPN masks your IP address by connecting to a VPN server that acts as a proxy. It lets you hide your activities, secure internet traffic using encryption, and bypass geo-restriction.
Because VPN adds another hop in data's path, it introduces latency, which is not ideal for online multiplayer gaming where low latency is crucial for smooth gameplay. It is generally not recommended to use a VPN while gaming on PS4. However, for other reasons like bandwidth throttling, a gaming VPN can reduce your chances of slow download speeds if the ISP detects the activity and punishes you for downloading too much.
Conclusion
As you prepare for Black Friday to pick up a PS4 at a discounted price, check out FastestVPN's Black Friday VPN deal. Save 93% when you subscribe to the 3 Year or 5 Year plan. And for a limited time, get 1 Year of Internxt's 1TB cloud storage and PassHulk's password manager at no additional cost.

Take Control of Your Privacy Today!
Unblock websites, access streaming platforms, and bypass ISP monitoring.
Get FastestVPN