Does VPN Help to Avoid GamStop?
Does VPN Help to Avoid GamStop?
By Christine Margret No Comments 5 minutes
There is a lot of software available to help users struggling with gambling addiction which controls your overall online gambling activities by enforcing restrictions. GamStop prevents you from using any gambling website for a selected period of time.  VPN (Virtual Private Network) helps to access websites that are "geo-blocked" which means blocked due to location.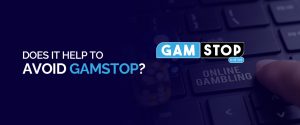 VPN helps when you are in a location that has a restriction for gambling websites mainly due to state laws or local restrictions that are against gambling. But VPN is absolutely of no use when it comes to avoiding GamStop. Gamstop does not depend on your location or browser settings, therefore VPN has no control over it. The only possible way to play is by using casinos that are not on GamStop and are available for self-excluded players. Though VPN cannot help you to avoid a blocker like Gamstop which is typically enforced for UKGC licensed casinos, some software blockers can be bypassed by using VPN.
Top Blockers to Avoid with VPN
These are some blockers that can be avoided using VPN:
1. Gamban
Gamban is an application made to block access to gambling sites, sportsbooks, online crypto casinos, betting, and trading websites. Gamban can be used on both desktop and mobile. Gamban blocks the websites that are in their database and cannot block websites that are yet to be included in their database. This application can be easily downloaded and installed from their website and once this application is installed on the device, the app is impossible to remove until and unless the self-exclusion terms of the application expire.
You can contact customer service to get help removing the application, but it would not be of much help. Even if you close your account, Gamban will not stop blocking your websites. The only option is to wait for the self-exclusion terms to expire and this could take time from six months to even five years. Gamban blocking of sites may be bypassed by using VPN.
2. BetBlocker
BetBlocker is a similar software to Gamban. Once it gets installed in a device it blocks not only gambling websites but also the websites that provide gambling content. The database of this software is large and covers over six thousand gambling sites or sites that have content related to gambling. The application blocks all the unauthorized and non-licensed sites from the device where it has been installed.
This website is free of cost as this has been created for charity purposes to help people get out of their gambling addiction and is funded by donations. This software works towards safe and nonaddictive gambling. One way through which you can get out of this is by deleting the software. Once you delete the application from the device, the block sites immediately get unblocked.  You may try to avoid blocking by Betblocker using a VPN.
3. Net Nanny
Netnanny is a well-known software that controls the content of the device, smartphones, or computers. This software was primarily useful to parents to control their children's internet activities. It is a web browser that acts as a filter. Net Nanny is not only to avoid gambling websites or websites related to it. It acts as a customizable web filter that can block the contents of the user's choice.
Netnanny also has a feature of screen lock or screen schedule where there is an option to block internet access after screen time expires. Net Nanny blocks selected apps and this feature are available in both iOS and Android. Netnanny offers a mediocre set of geofencing tools. Net Nanny successfully blocks gambling sites and sites having gambling content; if customized to do so, you can bypass Net Nanny blocking by using a VPN.
Conclusion
Punters suffering from addictive gambling often resort to Gamstop schemes to self-exclude themselves from all UKGC registered casinos for a stipulated period. Gamstop is a self-exclusion scheme founded in November 2016 and is run by the National Online Self Exclusion Scheme Limited or NOSES.
While most top-tier casinos undergo audits by eCOGRA labs, GamCare, or Gaming Laboratories International to ensure transparency and legitimacy, that doesn't stop punters from getting addicted to investing more than they could afford, running into unnatural debts.
Software blockers like Gamban, Betblocker, and Netnanny are top-notch software that can be installed by users who suffer from addictive gambling in order to help them to control their gambling activities. They can enrol in the self-exclusion programs offered by these applications which are tough to break out from until the exclusion time expires.
Self-exclusion programs are usually designed for a minimum of six months and some are for years. This is a long way out. Blockers like Gamban, Betblocker, and Netnanny can be bypassed using VPN (Virtual Private Network) which is not possible in the case of Gamstop.

Take Control of Your Privacy Today!
Unblock websites, access streaming platforms, and bypass ISP monitoring.
Get FastestVPN