How to Disable Cortana on Windows 10
How to Disable Cortana on Windows 10
By Nick Anderson 1 Comment 4 minutes
Cortana is Microsoft's virtual assistant that competes directly with Google Assistant and Amazon's Alexa. The virtual assistant became a part of Windows 10, allowing users to get work done, such as launching apps, searching for items online, weather updates, or even curious facts and jokes.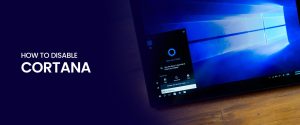 Microsoft aimed to build a virtual assistant that learns and improves over time. To achieve that, Cortana must collect certain data from your device to improve its accuracy and deliver personalized results. The data collection may not sit well with everyone. To that end, here's how to disable Cortana on Windows 10.
How to Disable Cortana
Quick Method
For most users, preventing Cortana from picking up microphone speech would be enough. This is the easiest way to disable Cortana. 
Click on the Cortana icon in the Task Bar. 

Click on the three-dot menu in the upper-left corner. 

Go to Settings > Keyboard shortcut. 

Turn off the slider. 

Repeat the same for Microphone and Voice activation. Turn off

Let Cortana respond to the "Cortana" keyword

and

Use Cortana even when my device is locked

sliders. 
Permanent Method
This method requires that you edit Windows Registry. 
Right-click on the

Start

button and click on

Run

. 

Type

regedit

and hit Enter. 

From the left menu, go to

HKEY_Local_Machine

>

SOFTWARE

>

Policies

>

Microsoft

>

Windows

. 

Right-click on

Windows

, click on

New

, then

Key

. 

Type in

Windows Search

as the name. 

Now, right-click on

Windows Search

and create a new value by selecting

New

>

DWORD (32-bit) Value

. 

Type in

AllowCortana

as the value's name. 

Double-click on

AllowCortana

, enter

0

as its value data, confirm with

OK

. 
Cortana will be disabled now. You can enable Cortana back by setting the value of AllowCortana to 1. 
What Data Does Cortana Collect?
Like any assistant, Cortana needs to know about you to serve you the best. Microsoft built Cortana to improve over time in areas such as speech recognition. 
Cortana works even if you don't sign in with a Microsoft account, but it will be limited. Microsoft's privacy notice on Cortana states: 
"Cortana works best when you allow the use of data from your device and from Microsoft services, as well as from third-party services and skills. Microsoft collects and uses information including your information and location history, calendar details, content and communication history from Microsoft services, messages, and apps."
Cortana needs that information to follow certain commands. For example, it needs access to your calendar if you ask it to schedule an appointment. It needs access to apps like Spotify so it can follow your command to play music. And it needs access to the microphone to listen to the "Hey Cortana" command, which allows you to wake Cortana with your voice. 
Should You Enable Cortana?
Data collection is part of every service that strives to deliver the best value to you. Personalization is key in catching your interest. It wouldn't be a personal assistant if it couldn't set up a reminder for you. 
Previously, Microsoft collected speech data to improve its voice technology. The data was anonymized; hence it was not linked to the user. As of October 2020, Microsoft is no longer storing speech data. Instead, Microsoft gives you the option to allow data collection to improve its speech recognition technology. 
Cortana is useful; it delivers insight by learning your routines, such as daily traffic and weather alerts. 
How to Clear Cortana's Data
It should be noted that preventing Cortana from collecting the information does not erase what it has collected. It only ensures that there will be no further data collection. 
Click on Cortana's icon. 

Click on the three-dot menu and go to

Settings

. 

In

Privacy

, select

Clear

under

Chat history

. 
Now, clear the search history from the device. 
Click on the

Start

menu and go to

Settings

. 

Go to Search. 

Scroll down in

Permissions & History

, and select

Clear device search history

under

History

. 
Conclusion
Despite the data collection, Cortana is a useful virtual assistant built to serve you relevant suggestions. Microsoft's decision not to automatically collect speech data is a welcomed one. However, you need to be careful about the search history, Inking & typing personalization, and location data stored on the device and in the cloud in your Microsoft account.
Microsoft allows you to look up what data is associated with your Microsoft account in the privacy dashboard.

Take Control of Your Privacy Today!
Unblock websites, access streaming platforms, and bypass ISP monitoring.
Get FastestVPN