Best Data Visualization tools in 2021
Best Data Visualization tools in 2021
By Christine Margret No Comments 6 minutes
Dealing with crucial data isn't as easy as it may sound. Data sets contain thousands or even millions of data points, and it gets terrible to discern something important from it.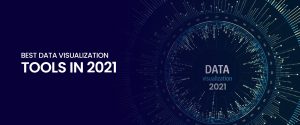 Every year businesses grow more customers,  meaning more data has to be managed and represented. Managing and understanding larger volumes of data becomes difficult for an organization, which is why companies opt for the best tools for data visualization. These tools help businesses turn data sets into readable graphs, visual charts, dashboards, and tables.
In this way, data visualization tools make the entire process relatively straightforward. It's a great way for any organization to create annual reports, sales and marketing materials, and investor slide decks.
In short, data visualization tools make it easier for any organization to represent large volumes of data.
Hence, selecting the best tools is required to represent unreadable datasets feasibly. If you are also looking for reliable data visualization tools, then this blog is what you should go through.
Our blog aims to share a list of the best data visualization tools you can use in 2021.
Before jumping into the details of the best working data visualization tools, you can take a look at the ways to protect your data from leaking.
List Of the Best Visualization Tools to Try in 2021
Infogram
| Pros | Cons |
| --- | --- |
| Free plan with basic features | Fewer built-in data sources compared to other apps |
| API available for additional data importing | |
| Offers 550+ map types | |
| 35+ chart types | |
Infogram is a feature-packed drag and drops visualization tool, it's easy to use, and non-designer can also interpret data by creating effective reports, social media posts, infographics, dashboards, etc. 
Another great thing is that you can transport your finished visualizations into different file formats like PNG, JPG, PDF, HTML, and GIF. 
While using Infogram, you can create engaging visualizations that can be used for a company's website or app. It also has a WordPress plugin through which you can easily integrate visualizations.
ChartBlocks
| Pros | Cons |
| --- | --- |
| Plans are affordable, and a free plan is also available | Lacks the mapping capability |
| Easy to use data importing wizard | |
ChartBlocks is also one of the best data visualization tools; it has an API that makes it super easy to import live data feeds from anywhere. However, it's a professional app and data importing is a bit complex compared to other tools with specific automated modules and extensions for data sources.If you're a fan of customization, then ChartBlock wouldn't disappoint you. It has wide customization options for finalized visualization. Its chart-building wizards let you pick the right data to place in the chart before importing.
Tableau
| Pros | Cons |
| --- | --- |
| Free public version | Expensive software $70/mo |
| Easy video tutorials available for learning | Lacks private data analyses in its public version |
| Numerous data import options | |
| Mapping option | |
Tableau is a powerful and easy-to-use data visualization tool. With Tableau, you can import data using several sources and get visualization output in different forms, including charts, maps, infographics, and more.Tableau is a great visualization platform for enterprises. You can use its different products for desktop, server, and web-hosted versions of its analytics platform. Not only that, but Tableau also offers its customer relationship management software.On the work front, the software supports color-coded maps to exhibit geographically important data in a format that's way easier to understand than a table or a chart.
DataWrapper
| Pros | Cons |
| --- | --- |
| Built-in color blindness checker | Expensive paid plans |
| Free plan available | Data sources are very limited |
| Specific for newsroom data visualization | |
DataWrapper is one of the best data visualization tools for interactive maps and news website charts. It's an easy-to-use data visualization tool with limited data sources that follow a typical process of copying and pasting data into the tool.Charts can be easily drafted once you input the data. The best thing about this software is that it has various visualization forms like bar charts, column, line, area charts, election donuts, choropleth, locator maps, scatter plots, symbol maps, and many more.If you own a small site with limited traffic, then you can rely on its free plan. However, its paid version is a bit expensive at $39/mo.
Sigmajs
| Pros | Cons |
| --- | --- |
| Free and open-source platform | Supports network graphs on |
| Customizable and extensive options | JS knowledge is mandatory for customization and implement |
| Easy graphical embedding in websites and apps | |
Sigmajs is a dedicated network graph visualization tool. Its customization is commendable but requires you to be a knowledgeable JavaScript user to continue using the platform.  Moreover, Sigmajs graphs are not only customizable but are also interactive, responsive, and embeddable.
Google Charts
| Pros | Cons |
| --- | --- |
| Free platform | No offline functionality |
| Extensive chart formats are available | Customization is limited |
| Supports dynamic data | |
Google charts is a popular free data visualization tool for creating interactive charts. This tool uses HTML5/SVG technology to create charts which makes them even accessible. Another good thing about Google Charts is that it can pull data from various sources like Salesforce, SQL databases, and Google Sheets.You can find 18 different types of charts using the platform, including pie charts, bar charts, histograms, area charts, and geo charts. Also, complete customization of charts is possible with simple CSS editing.
Free Data Visualization Tools
If you're looking for the best free visualization tools, then you can try the following options:
Tableau Public
Microsoft Power BI
Google Data Studio
Leaflet
Datawrapper
Easy-to-use Data Visualization ToolsThe most easy-to-use visualization tools are:
Google Charts
Tableau Public
D3
Fusion Tables
Visualize Free
Can I Use Excel as Data Visualization Tool?
Yes, Excel can be a data visualization tool as it has various visualization options. Besides using this program as your basic data analysis tool, you can also try some of its visualization options.
Is Google Analytics Also a Visualization Tool?
Google Analytics also possesses some visualization powers. It can offer five different visualizations in every default data analysis report.
Conclusion
Data visualization is important for data representation.  If you're unsure which data visualization tools are the best for your business, use this blog as your go-to guide.

Take Control of Your Privacy Today!
Unblock websites, access streaming platforms, and bypass ISP monitoring.
Get FastestVPN