A Guide to Cybersafety for Beginners in 2023
A Guide to Cybersafety for Beginners in 2023
By Christine Margret No Comments 4 minutes
Learn about Cybersafety for beginners in this guide to stay protected online. Since a great portion of the world is now online. There is barely anything that is not reliant on the internet or the online world. This, of course, has provided many benefits. There are now so many efficient ways to do things thanks to online services. It is safe to say that nowadays, it would be difficult to live without digital means.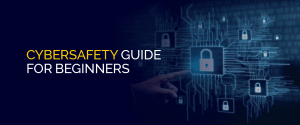 Of course, the online world is also far from perfect as well. There are definitely problems it presents to the general public. For example, cyberbullying is something that a lot of kids may struggle with. This is something that a lot of current adults did not have to deal with in their childhood, so it can be a tough situation to tackle.
There are also some serious safety issues to be considered in regard to using online devices and the internet.
This is why you need to make sure you are familiar with at least the basics of cybersecurity guidelines and staying safe when using the internet.
If you are a beginner in this field, then check out the following tutorial. In addition to using quality anti-virus software, these tips can help you to be safer online and avoid potentially unpleasant and even unsafe experiences. You should also consider using a VPN to protect your privacy to a new level.
Trusted Sites
You want to ensure that whenever you use a smartphone or a computer to browse the internet, you only use trusted sites.
There are just so many websites out there that you can click on. However, there are actually only so many that you should be clicking on.
There are a massive amount of dangerous websites out there that you can easily click on by accident.
This is why you should never take risks when it comes to clicking on sites. For example, if you are looking to make purchases, say, buying clothing online, you must make sure that you check the "https://" protocol is present in the website's address, as this shows the site is secure.
You should also check out a site's reviews if you intend to spend money; if a site or store has poor reviews, you must avoid it and shop elsewhere.
The same goes for trading sites and even online casinos. For example, if you want to play some online roulette, you should only do so after ensuring that the platform you use is officially licensed and trustworthy (reviews can help with this too).
Well-known casinos that offer roulette and more such as spincasino.com are reputed for tight security as well as having all the necessary gambling licensing, which is why you should only ever play with real money via legitimate sites like this one.
Public Wifi
You might think that public wifi is a convenient thing. Of course, having an internet connection when you are out of the house is very beneficial. However, there are a lot of dangers that can come from connecting to public wifi. These connections aren't usually secure. This means it is easy for hackers to access your data and put you in danger. So think twice about using public wifi.
Bad Links
So many people out there trying to pull scams over people on the internet. One of the most common ways people scam you is by sending you illegitimate links. Scams can often look very legit, and these links can look professional. However, if you ever have any doubts about a link that you have received, especially via SMS, text, or email, don't click it or visit the site.
Conclusion- Cybersafety Guides for Beginners
There you have it! These are some useful Cybersafety guidelines for beginners to consider. Remember, using the internet is crucial in this age, but practicing safety measures is also equally important. By following these guidelines, you will ensure a safe and secure online experience.
Take Control of Your Privacy Today! Unblock websites, access streaming platforms, and bypass ISP monitoring.
Get FastestVPN