How to Clear Cache in Firefox
How to Clear Cache in Firefox
By Nick Anderson No Comments 5 minutes
Mozilla Firefox is one of the leading web browsers and one that offers a privacy-focused approach to the user experience. It also serves as the foundation for the Tor browser, which you can learn about here. If you use Firefox as your daily driver and feel that the web browser has been acting weird lately, you may want to clear the Firefox cache. The process is very easy and takes a short time.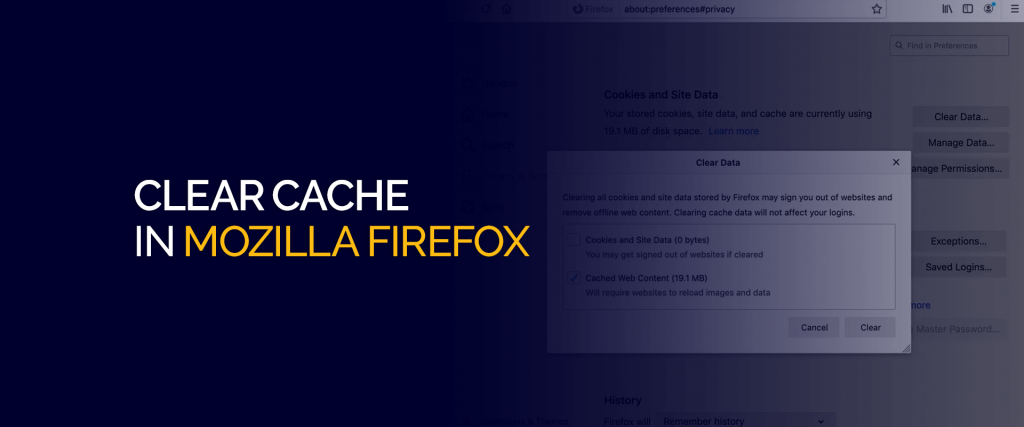 Clear Cache to Fix Problems
Why would a web browser need cache clearing, you ask? Because web browsers today are more powerful in functionality than ever. They take a more memory footprint now due to the growing number of functionality being added as devices get faster.
You can have multiple extensions for Firefox that offer different types of functionality within the web browser. FastestVPN for Firefox lets you change your IP address and bypass geo-restrictions without leaving the web browser. Grammarly for Firefox lets you check texts for grammatical errors and identify plagiarism. And similarly, password managers extensions give you secure storage for passwords and allow auto-fill functionality for login fields.
With such functionality, some web browser components may display abnormal behavior or the web browser may get slower over time. Clearing cache in Firefox may fix those problems.
It also fixes any DNS information stored in the information. If you cannot visit a website that you once could, its web server may have changed, and the web browser has the old information stored.
How to Clear Firefox Cache
Firefox allows you to clear cache easily. Here's how to do it:
Windows and macOS
In Mozilla Firefox, click on the hamburger menu on the top-right corner and go to Settings.
Click on Privacy & Security on the left navigation panel.
Under Cookies and Site Data, click on Clear Data.
Check the box that says Cached Web Content and confirm by clicking the Clear button.
You can also check the Cookies and Site Databox, but it will sign you out of all the accounts on websites that you have visited. We'll show you how to block cookies on Firefox later in this blog if you are worried about cookies.
iOS and Android
Open Mozilla Firefox, click on the hamburger menu on the bottom-left corner and go to Settings.
Scroll down and go to Data Management.
Enable the switch for the data that you want to wipe from Firefox. Turn on Cache and leave others turned off based on your choice. Then, tap on Clear Private Data.
How to Reset Firefox
If clearing the cache of Firefox did not fix the issue, resetting the web browser might fix it. Keep in mind that this method will erase all data, such as extensions and themes, preferences.
This feature is different than clearing all data. It refreshes the browser by uninstalling additional components that could be causing issues.
Windows and macOS
Open Firefox web browser, click on the hamburger menu on the upper-right corner and go to Help.
Click on More Troubleshooting Information.
Select Refresh Firefox, then confirm your decision.
Once the refresh process has finished, you will be asked to select any old data for importing.
How to Prevent Tracking in Firefox
Cross-site tracking is a way advertisers use to track you across the web. It's a small code in websites that allows advertisers to identify you even when not on their platform. Facebook's Like and Share button on websites is an example of how the social media platform knows where you have been.
Similarly, Google Ads knows your browsing history as you jump from one website to another website that has Google's code embedded within the page.
The strong demands to do more when it comes to protecting user privacy have pushed technology companies such as Mozilla. The result is that Mozilla Firefox, including other web browsers, has implemented a feature that blocks third-party trackers.
You will find the option to disable tracking in the Settings > Privacy & Security menu in Firefox. There are two levels you can select: Standard and Strict. The latter provides enhanced protection against trackers but at the cost of website functionality. Some trackers may be embedded in objects such as login fields and videos, and Firefox would need to block the content itself to block the trackers.
Is Firefox Safe?
Firefox has a better privacy track record than some other web browsers. However, a web browser can only encrypt its own traffic using HTTPS; it cannot provide blanket security for every type of network traffic on your device. It is where a VPN comes in.
A VPN is more than just a tool to watch Netflix online. It spoofs your IP address and applies encryption to internet communication, preventing any third party, such as the ISP, from monitoring web activity. It is a powerful tool that provides security on unsecured networks.
Conclusion
Use FastestVPN with Firefox's anti-tracking protection to have a powerful combination to enhance your privacy on the internet. The FastestVPN extension for Firefox gives you the ability to switch between proxy servers with just a click.

Take Control of Your Privacy Today!
Unblock websites, access streaming platforms, and bypass ISP monitoring.
Get FastestVPN