How to Change Sensitive Content on Twitter
How to Change Sensitive Content on Twitter
By Nick Anderson No Comments 5 minutes
Social media is ripe with useful information that keeps you engaged, but some of it can be sensitive. Such content is not intended to be viewed by audiences under 18 or people who find such content disturbing. As a Twitter user, it is expected of you that your tweets must be marked as sensitive for others. You can learn how to change sensitive content settings on Twitter through this blog.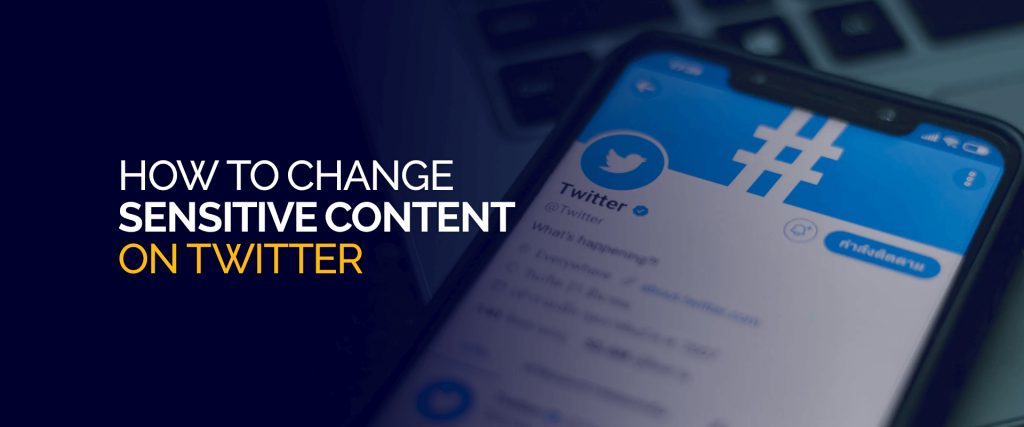 What Is Meant By Sensitive Content?
Sensitive content is a broad term that encompasses anything that is disturbing or inappropriate. It includes things such as gore, violence, sex, nudity that are not appropriate for children or extremely disturbing for some people. The term sensitive content may be relative as something as an injury with visible blood could not be disturbing to some people. But something that includes death or trauma has higher chances of being disturbing.
But just because something is likely to affect only a small number of people does not mean that you shouldn't use Twitter's sensitive content filter. As others mark their tweets as sensitive, Twitter requires all users to follow the guidelines before tweeting, which includes marking tweets if they contain an image or video that could sensitive.
Why You Should Always Mark Sensitive Content
Twitter has 221 million active users. While not all of them engage, a large population on the platform shares opinions and news regularly. It is one of the go-to sources for businesses to engage with customers. It is a leading outlet for sharing political news and opinion, and conversely misinformation.
The political engagement is so strong on Twitter that in January 2021, protestors who stormed the U.S Capitol were using Twitter, among other mediums, to communicate. The protests were fueled by ex-President Donald J. Trump's tweets. In light of the inciting tweets, Twitter decided to ban the account of Donald J. Trump permanently.
While sharing sensitive material without marking them is far less offense in the eyes of Twitter, the social media giant does review such things and takes action accordingly. If you are found violating multiple times, Twitter may deactivate your account.
How to Change Sensitive Content Settings on Twitter
If you consider yourself as someone who is easily disturbed by sensitive material then you can disable sensitive content on Twitter. The option is in the settings of your Twitter account.
From the left menu list, go to Settings and privacy > Privacy and safety > Content you see.
Uncheck the Display media that may contain sensitive content options.
After this, you will not see tweets that have been marked as sensitive in your feed.
As a Twitter user, you need to mark your tweets if it contains sensitive content. Twitter advises users that if they typically share sensitive material then they must enable the option to mark tweets as sensitive. Enabling the option will automatically mark future tweets as sensitive, giving users the option to choose not to view them.
Here's how to change sensitive content settings on Twitter:
Go to Settings and privacy > Privacy and safety > Your tweets.
Check the Mark media you Tweet as having material that may be a sensitive option.
What If I Don't Mark My Tweets as Sensitive?
Twitter allows users to report a tweet. If it accumulates enough reports, the tweet then goes into review. A human will look through the tweet and determine if it's in violation of Twitter's guidelines. The content will be marked as sensitive by Twitter, and in the case of a live video, it will be removed.
Twitter says that it will also determine and change the user's account settings so that future tweets contain the sensitive material warning. The setting may be made permanent if Twitter finds that you repeatedly upload content without marking them as sensitive.
How Do I Unlock My Twitter Account?
Twitter can suspend your account in some situations such as when your profile picture or anything if your profile's media contains content that is in violation of Twitter's guidelines. Twitter allows suspended account holders to make an appeal, which may unlock the Twitter account after a review and meeting the requirements, such as removing any violating content from the profile. If you are looking to delete your Twitter account, check out our blog here.
Final Words
The minimum age requirement to use Twitter is 13 years. However, the age of consent differs from country to country. In which case, you may need the consent of a parent or guardian. As Twitter is populated with users who are at least 13 years of age but potentially do not meet the age of consent, marking content as sensitive works towards making Twitter a safe platform.
But it's not just people under 16-18 years of age, people who are easily disturbed by sensitive material like violence have to be considered as well. Freedom of speech extends to sharing opinions online, but it shouldn't be at the cost of other people's feelings.

Take Control of Your Privacy Today!
Unblock websites, access streaming platforms, and bypass ISP monitoring.
Get FastestVPN