How to Bypass Mega Download Limit
How to Bypass Mega Download Limit
By Christine Margret No Comments 4 minutes
Mega has been a cloud storage company since 2013, and it has around 60 million active users worldwide. Students, freelancers, and corporations use this service to share work with others and store files when needed.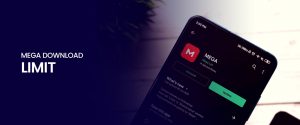 Besides managing large files storage, it also enables you to access your files on different devices while using its mobile and desktop app. Mega is a cross-platform service, but many of its users are not paid, users. 
Mega has limited access and functionalities for its free account. It means that if you're using a free Mega account, then you will experience slower download speeds and a monthly data limit. 
You will be forced to buy a subscription, and if you're a seldom Mega user, buying the whole subscription is not worth it. 
Mega gets you a monthly quota of only 5GB/ month for its free accounts, and you have to wait for a month until it renews for the next month. 
Luckily, we have got you covered. This guide will show you how to bypass the Mega download limit or add an extra Mega transfer quota to download files.
Ways to Bypass Mega Download Limit
Get Mega Desktop and Mobile app to get an extra transfer limit.

Add your mobile number to your Mega account.

Connect to a virtual private network to download files from Mega. 

Use JDownloader. 
How to Bypass Mega Download Limit
For every premium and free account, the service sets a bandwidth limit that allows you to only use a specific amount of data from Mega servers to your system.
For instance, if you're in the middle of a file transfer and your assigned quota is finished, you will have to wait until your next quota is assigned. 
However, there are some good ways that will get you the extra download limit on Mega. 
Get Mega Desktop and Mobile app to get an extra transfer limit
Downloading Mega mobile and desktop apps will let you win a free transfer quota of 40 GB (desktop) 30GB (mobile). The total GB, which you can earn through downloading the Mega app, is around 70GB. Yet, you are bound to run the same Mega account on both devices. 
Add your Mobile Number to your Mega account
When you download a larger file using Mega, you shortly receive a message that says your download limit is exceeded. Right after the message, Mega gives an option to add your phone number to the account to increase your transfer quota and storage limit. 
By adding your phone number to Mega account you will instantly get a 20GB storage limit and 40GB transfer quota which is ample enough to download large files. 
Connect to a Virtual Private Network to Download Files from Mega
A VPN like FastestVPN enables users to browse anonymously by hiding IP addresses. You can also use FastestVPN to bypass your Mega download limit. Before connecting with FastestVPN to bypass the Mega download limit, take care of a few outlined things. 
If you want to download a very large file with various folders, and your account quota gets ended, then wait for a few minutes to let your limit reset; otherwise, you will need to start it from scratch. Your file will start downloading from its first megabyte, which will be a frustrating experience. 
Moreover, if you do not have enough quota left to download new files then use the MegaSync app and reset your VPN, then restart the Megasync app. 

You can also download direct files using JDownloader. Simply go to the official JDownloader website, and click where you see an option for Download from the menu. Now, select your operating system, if you wish to download a program directly on your computer.
But, you will need some proxies and some changes in the settings tab to fully run JDownloader. Right now, JDownloader is available for Linux, Mac, and Windows only.
FAQS:
Is There Any Daily Limit for Mega Download? 
Yes, Mega free plan offers a daily limit of 5GB which is equal to 150 GB each month. However, using our guide, you can easily increase your Mega transfer limits and Mega storage space.
How to increase Mega download limit with FastestVPN? 
Install a Mega app Connect VPN (not recommended for dynamic IP) Change your VPN location (for dynamic IP, restart your router)  Repeat the same method when you receive a download limit error. 
How Safe is Mega? 
Mega is a secure cloud storage service. Its free account comes with a limited transfer quota and file storage service. Yet, with a VPN, you can bypass your Mega transfer limit. 
Does Mega Track My Downloads? 
Mega doesn't see your downloads. However, they can easily track your identity and location along with the amount of data that you've transferred. 
Conclusion
Here you have it! We hope that our smart tricks will definitely help you in increasing your Mega Download limit. Try any of the mentioned tricks, connect FastestVPN to avoid limitations, and enjoy limitless data sharing and downloading.

Take Control of Your Privacy Today!
Unblock websites, access streaming platforms, and bypass ISP monitoring.
Get FastestVPN