How to Bypass Internet Restriction in Indonesia
How to Bypass Internet Restriction in Indonesia
By Nick Anderson No Comments 6 minutes
Internet censorship is a growing problem everywhere in the world. It happens when the government of a country wants to limit access to certain news or social media platforms, it may ban such services entirely.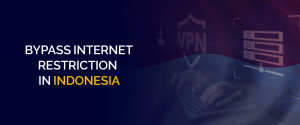 The government of Indonesia enacted new rules in mid-2022 that limit some annoying or harsh online content that may be seen or accessed within the country.
These limitations will annoy business owners, and individuals who rely on the Internet and social networking sites for a job or personal reasons may struggle with the internet restriction in Indonesia.
Don't worry! Here, we'll teach you how to hide your online footprint while still accessing your favorite social networking sites while in Indonesia. We will give you a way to get around this censorship by using a VPN. Follow these steps to get FastestVPN for your device.
Note: FastestVPN doesn't reinforce you to bypass the laws and surveillance acts. However, if you still want to unblock and bypass your desired content, then we will give a brief knowledge on (how to) bypass Internet restrictions in Indonesia.
How to Get a VPN on your Device
Getting and connecting to a FastestVPN server is so easy and will immediately give you access to a VPN IP. You may then stop spying eyes from your activities on the Internet.
Let's see how you secure your Internet traffic online with a VPN.
Get FastestVPN for your device.
Sign up for an account or enter your credentials.
Go to the servers page and choose a VPN server of your choice.
You may now access any Indonesian content that you want.
How to bypass Internet Restrictions in Indonesia
Get a VPN subscription from a reputable VPN provider like FastestVPN.
Download and Install the VPN application on your desktop, laptop, tablet, or smartphone.
Launch the VPN and join a server of your choice.
Your data traffic will route safely through a FastestVPN server, giving you access to your desired content.
What does Internet Censorship mean?
Censorship on the Internet is a method of repression. Censorship of the Internet is often associated with authoritarian governments. The permission of what might or might not be accessible on the Internet is known as "online censorship" or "internet censorship."
But, we see a rise in disagreements between governments and tech corporations often due to differences in opinion on the Internet. Visitors and locals alike may find that their internet access is restricted in certain countries. It's possible, for instance, that streaming services like Netflix won't function. There comes the use of best Streaming VPN.
In addition, Big Tech companies like Google and Facebook block certain information on their platforms by judging what is inappropriate for their users. They have the power to delete whole websites, alter search engine rankings, and even block specific information on social media platforms.
Technology and people are like a vehicle and drivers, but the traffic processing is in the control of lawmakers. However, you can make a virtual bridge to reach your designated website by using FastestVPN. You will not only have access to bypass geo-restrictions but will also stay hidden with a VPN server.
Censorship in Indonesia: A code of conduct for the citizens
Before proceeding, it is important to understand the new internet limitations in Indonesia. A few of the most important facts concerning the new regulations in Indonesian content restrictions are as follows:
The government may now punish or even shut them down if social media platforms refuse to remove or censor said content.
The government may restrict access to websites and applications that include "bad" content, such as those that are critical of the government or advocate for "extremist" ideas.
The government has mandated that ISPs screen and prevent domain name system (DNS) queries.
The Indonesian government has defended these new codes of conduct for geo-restrictions on the grounds that they are required to shield the public from potentially harmful or unethical content.
Indonesia is a country that takes Internet censorship very seriously. In 2018, the government spent $14 million on a new Internet censorship software to ban any information that it judged inappropriate for its inhabitants.
However, the pendulum of censorship swings both ways. The government of Indonesia is notoriously protective and takes ultimate credibility to implementing laws. But many people are concerned that the government is using these internet restrictions to silence dissent and limit freedom of speech. This includes the country's banking and financial hubs as well as its own Netflix, television networks, and streaming services.
What makes FastestVPN the best VPN in Indonesia
Complete Safety
FastestVPN allows you to transfer any form of data, whether internal to Indonesia or external to it, without restriction. With the help of FastestVPN, there will be no potential for unauthorized parties to access your data, including sensitive and confidential information.
Ten simultaneous connections
With a single subscription to FastestVPN, you can secure up to 10 different platforms, including Mac, iPhone, Android, Windows, browsers, and many more. Furthermore, this sum depends on the deals.
Access worldwide streaming services
Any Indonesian may use FastestVPN to access streaming services like Netflix, HBO, Hulu, BBC iPlayer, and others from anywhere in the country. FastestVPN gives you a stable connection for streaming flawlessly on any device.
Steadfast Servers Network
With FastestVPN, you can literally fly to and from Indonesia in a matter of seconds. You may thus ignore any limitations imposed by Indonesia or any other state.
Kill switches
The kill switch itself tells about its functionality. If your VPN connection ever fails, it terminates your Internet access. This ensures that your true information won't leak if your VPN connection drops for any reason at any moment. Being detected might result in punishments, including sanctions, deportation, or even jail time in a place like Indonesia.
Best-in-class procedures for encrypting data
The government of Indonesia takes keen interest in their public's Internet data. You would never want anybody to have access to your personal information or your online activities and communications. Therefore, say thanks to FastestVPN for providing the best AES-256-bit encryption.
Leak protection
Thanks to our leak prevention feature, your IP and DNS will never be disclosed. To determine whether a VPN is trustworthy and up to date, you may check for these "leaks" on other websites.
FAQs
Which content is geo-restricted in Indonesia?
In Indonesia, internet censorship primarily focuses on preventing access to websites with pornography, gambling, and other content regarded to be morally repugnant or dangerous to national security. In an attempt to limit the transmission of information, the government has also banned a number of news websites and social networking websites.
Is using a VPN legal in Indonesia?
Yes. There are no limits on using VPNs in Indonesia since they are legal there. It is crucial to remember that the government may choose to restrict certain VPN servers. You might try using a different VPN server if you're experiencing problems connecting to one. Also, bear in mind that even if using a VPN is permitted in Indonesia, certain actions are still prohibited. Accessing websites with child pornography, gambling, or other objectionable content or anything that poses a security risk are a few examples.
How can I access blocked websites and content in Indonesia?
You can access any content on the Internet by connecting to a VPN server in another country; you can get around the geo-restrictions from any country's content. You will be able to use any website or program that is accessible in that country.
Which websites are blocked In Indonesia?
PayPal, Steam, Epic Games, and more websites are blocked in Indonesia. Subscribe to our FastestVPN to get access to those blocked websites.
Can censorship be avoided?
The methods and tactics used to get around Internet censorship vary in their simplicity, speed, security, and hazards. Some techniques, such as the use of alternative DNS servers, circumvent censorship by accessing the site using a different address or address lookup system.
As a Closing Remark
Censorship in Indonesia occurs for many reasons, including political, social, or religious reasons. Governments censor online media, including social networks and news websites.
Therefore the use of a reliable VPN is highly recommended as a means of accessing otherwise inaccessible content. Change your virtual location and encrypt all of your online communications using FastestVPN.
If you want privacy and anonymity when browsing the web, a VPN like FastestVPN.
Take Control of Your Privacy Today!
Unblock websites, access streaming platforms, and bypass ISP monitoring.
Get FastestVPN