Is Bluestacks Safe to Use
Is Bluestacks Safe to Use
By Nick Anderson No Comments 5 minutes
Emulation is a way of getting software to run on a system not designed for it. Gaming is one of the areas where emulation is particularly popular. There have been several gaming systems over the years with different underlying architectures. A game made for one system will not run or perform the same on another system because it was not designed for it.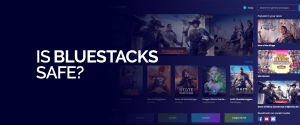 Gaming on smartphones is a popular way to play games on the go. The Android marketplace is populated with games that users enjoy and love. But it takes an Android device to access and play those games, which is not always within reach of some users. 
Bluestacks is an emulation program that allows you to run Android apps on Windows or macOS. We'll be running you through the important question is Bluestacks safe? And also show you how to get it up and running on your Windows PC or Mac.
Overview of Bluestacks
Bluestacks is an emulator that runs Android apps on Windows and macOS. Emulation is a technique that takes a piece of software and runs it on a machine running a different operating system and underlying architecture. A program coded for the Android operating system cannot technically run on Windows operating system. 
With an emulator, the program can be translated in real-time to run on another operating system. 
Bluestacks was released nearly 12 years ago, making it as old as the Android OS. It has been delighting users since. 
Is Bluestacks Safe – Should You Install It?
In a word: yes. Bluestacks is absolutely safe to use. It is a popular emulator that is the most convenient way to run Android applications on Windows and macOS. In fact, Intel, AMD, Qualcomm, Samsung are some of the names in its patron list. 
If you are worried about whether Bluestacks is a trojan for perhaps a cryptominer, then you can rest easy. A trojan is a program that appears legitimate but actually hides malicious code for any number of malicious purposes. 
Bluestacks has been in service for years, and there have been no reports about the program hosting malicious code under the code. However, what you need to be careful about is from where you download the program. Hackers prepare popular programs as trojan to attack unsuspecting users. You must always download applications from official sources, i-e directly from the official website. It will ensure that the application is free of malware and is the latest version. 
So, yes – you can and should download Bluestacks on your computer to enjoy what the Android platform has to offer. You can enjoy games such as Call of Duty Mobile, Candy Crush, PUBG Mobile, and more on your computer while signed in to your Google account. 
How to Install Bluestacks
Before you install Bluestacks on Windows, here are the minimum and recommended specifications required to run Bluestacks on Windows 10 or below. 
Minimum Specifications for Bluestacks
OS:

Windows 7 or higher

CPU:

Intel or AMD 

RAM:

2GB

Storage:

5GB 
Recommended Specifications for Bluestacks
OS:

Windows 10 

CPU:

Intel or AMD multi-core processor with PassMark Score higher than 1000

GPU:

GPU with PassMark equal to or higher than 750

RAM:

8GB or higher 

Storage:

5GB SSD/Hybrid SSD
How to Set up Bluestacks
Download Bluestacks from

here

. 

Run the setup and let it download the application. 

Once the setup has been completed, click on the Play Store icon to sign in with your Google account. 
You can now browse through the Play Store and download Android apps. Some games use cloud saves so that you can pick up your progress in a game once signed in. 
Bluestack Features
Since its introduction in 2011, Bluestacks have evolved into the best Android emulator and the best way to run Android apps on Windows and macOS. Perhaps the best part is that Bluestacks is completely free to use. It is regularly maintained, and new features are added year over year. 
Here are some of the noteworthy Bluestack features: 
Map touch controls to mouse and keyboard or controller.

Run multiple games simultaneously or run multiple instances of one game through different accounts.

High-frame rate mode.

Translate text in real-time during gameplay. 

Access 20M+ Android apps. 

Works on older Windows OS like Windows 7 and Windows 8. 
Is it Illegal to Use Bluestacks?
Bluestacks is a legitimate program and is legal to use. It is simply emulating Android apps that are also available for free.
Conclusion – Is Your Data Private?
The blog wouldn't be complete without discussing Bluestack's data collection practice. It is one of the important areas that you should explore when giving access to an application. Bluestack claims that personal information, such as name, email address, is not shared with third parties. 
But that does not apply to other types of data. Classifying it under "non-identifiable information," Bluestack says that advertisers may use geographic locations and usage data for personalized ads. Bluestacks assures that information shared with advertisers is not personally identifiable, hence cannot be tied to you.
Take Control of Your Privacy Today!
Unblock websites, access streaming platforms, and bypass ISP monitoring.
Get FastestVPN