How to Block Email Tracking
How to Block Email Tracking
By Nick Anderson No Comments 5 minutes
Millions of people rely on emails for personal and business communication. They seem pretty straightforward; you send/receive an email that contains limited information in most cases. But even the innocuous nature of emails can hide the fact that your actions may be getting tracked.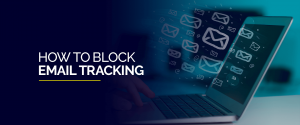 Email tracking is one of the ways that your privacy is being breached. And unlike ISP monitoring, most people don't know about it. The important question about how to block email tracking can only be answered once you know how advertisers are tracking you.
What is Email Tracking?
Email tracking is a way for advertisers to learn about a user's behavior through emails.
Digital advertising is a huge industry that thrives on collecting data about users. Advertisers do this by tracking users and their behavior as they visit websites and search for items on the web. Tracking happens in primarily two ways: cookies and pixels.
A pixel is a small code that advertisers can embed in an email to see when the user has opened an email. Let's learn how it happens in more detail.
How to Block Email Tracking
When you open an email embedded with a tracking pixel, the pixel loads from a server it belongs to and lets the sender of the email the timestamp when the email was opened. The pixel can allow the sender of the email – usually advertisers – to know when you opened the email as well as any links that you click from the email.
It is scary because an email is a private conversation that should not leak information such as your location. (yes, some tracking pixels even do that)
Email tracking is just another reminder of how advertisers collect data about users without their consent. Take the example of Superhuman: an email client that embeds tracking pixels in every email sent.
The email client was caught embedding a tracking pixel that allows the sender not only to see when the email was opened but how many times it was opened. By default, the feature was enabled and did not account for the receiver's privacy by asking for consent.
The one-to-all email marketing tools have been doing this for years. Yet, few people know that something like email tracking exists. Tracking pixels are hidden; it's a code behind the content that's in the email. While it's an effective tool for marketing purposes, it doesn't account for the user's privacy. Advertisers don't see consent before spamming users with such emails. Similar to cross-site tracking, there is no opt-out button that advertisers display to seek your consent.
How to Block Email Tracking
Fortunately, there are tools that can identify which emails have trackers embedded in them, and you can effectively prevent the tracking pixel from notifying the sender.
A tracking pixel is a 1×1 image that is inserted in an email and is hidden from your eyes. So, in essence, disabling the image will prevent the code from loading. Advertisement emails that we receive have a ton of images in them, such as limited-time offers and logos. Such HTML-based images allow advertisers to plant a code that is invisible to the receiver. The code communicates with the server when the receiver opens the email and fetches the content, allowing the sender to know exactly when it was opened.
Thankfully, email services such as Gmail, Outlook, Apple Mail give you the option to prevent images in an email from loading automatically.
Gmail:
Click on the gear icon in the upper-right corner.
Scroll down to the Images section in the General tab.
Tick the box "Ask before displaying external images."
Click on the Save Changes button.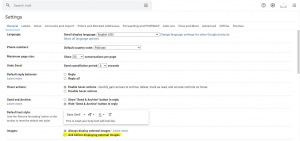 Outlook:
In the upper-right corner, click on the gear icon and click on View all Outlook settings at the bottom of the menu.
Go to General > Privacy and Data.
Check the box Don't use the Outlook service to load images.
Click on the Save button.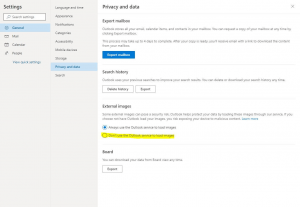 Apple Mail
Open Mail and go to Preferences.
Switch to the Viewing tab, and uncheck Load remote content in messages.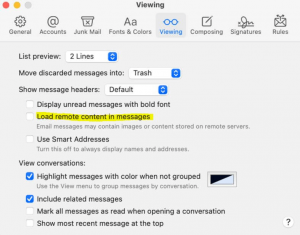 How to Identify Tracking Emails
Tools like Ugly Email can identify which emails in your inbox have tracking embedded in them. Ugly Email is a web browser extension that you can download for Google Chrome and Microsoft Edge here and for Mozilla Firefox here.
Once installed, Ugly Email will show an "eye" icon next to an email's subject line. Hover over the eye icon to see what tracking tool the sender is using.
You can also download PixelBlock, which will disable all images in the email from loading. It will identify tracking emails with red-eye. Download and install the extension here.
Conclusion
From ISP monitoring to tracking from advertisers, the online world can be invasive to your privacy. Fortunately, tools like Ugly Email and FastestVPN exist that allow you to safeguard your privacy. Like an email tracking blocker, FastestVPN prevents a third party from monitoring your web activity by encrypting data and using a VPN server to access the internet securely.

Take Control of Your Privacy Today!
Unblock websites, access streaming platforms, and bypass ISP monitoring.
Get FastestVPN