Black Friday and Cyber Monday VPN Deals and Coupons 2021
Black Friday and Cyber Monday VPN Deals and Coupons 2021
By Christine Margret No Comments 4 minutes
The beginning of festivities in the United States is here and so is the shopping season with it! The fourth of November onwards begins the biggest shopping days of the year! Cyber Monday is an online equivalent to Black Friday and it is just your chance to get your hands on the cheapest and best most VPN deal online!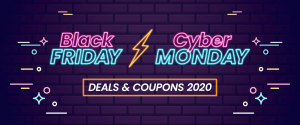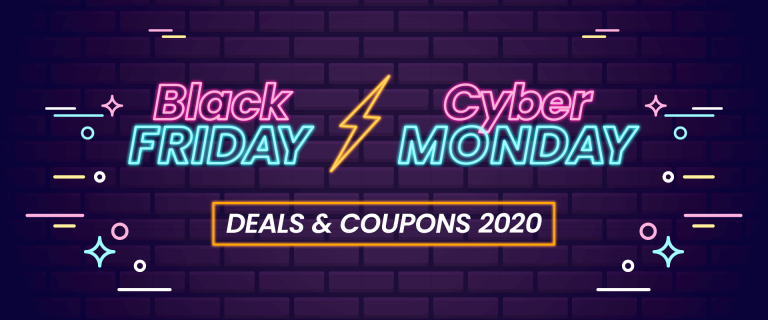 The shopping spree begins in less than a month but 26th November 2021 is the day to bag the real deal – FastestVPN's Black Friday, and Cyber Monday VPN deals! With discounts, you still have a lot to be thankful for even after Thanksgiving.
Black Friday and Cyber Monday VPN Deals-Get amazing discounts up to 93%
FastestVPN plays a significant role in these heated shopping shenanigans. It brings the best VPN Black Friday and Cyber Monday deals of the year. Spend less, save big with FastestVPN's impeccable sky-high discounts reaching up to 93%!
Other than the one month plan, all plans have large favorable discounts! The most in-demand will be the 5-year plan which will cost $1.5 per month. Isn't this offer grander than any before?
Here are the Best Black Friday and Cyber Monday VPN deals offered by FastestVPN varying in the time of subscription:
5-Year Plan – $40
3-Year Plan – $25
So hurry up and grab the best deal you want on this Black Friday/Cyber Monday.
Along with Cyber Monday VPN Deals, People also searched for:
Why Is This Opportunity Necessary to Grab?
Black Friday/ Cyber Monday lets all shopaholics get their hands on the best online deals, mostly which will be tech-related as evidently depicted by the name. FastestVPN is definitely a part of this race and leading it with its generously discounted prices.
We know that this is not a sale to miss and that the fastest VPN is a must-have, but why?! Well, it is simple. FastestVPN is a solution to all your digital problems.
It offers true internet freedom. It grants you full control of the internet and you are at full liberty deciding what you want to watch. Choose content from anywhere and enjoy it in any part of the world.
Other than that, FastestVPN offers security from all third-party hackers and intruders who sniff the slightest possibility of getting into your system and hacking it. So one may try to attempt to abuse your online privacy, but FastestVPN keeps such attackers at bay!
It doesn't stop there. FastestVPN lets all the video streaming lovers stream at high speeds without the interference of ISP (internet service provider) throttling speed. Consequently, this also calls for allowing torrenting without any fear. Being a Cayman Island-based company, we are under no law obligated to keep user records which is how we follow our zero-logging policy very strictly.
If that hasn't gotten you fully convinced, the exceptional features listed below, definitely will:
NAT Firewall
Malware Protection
Ad Blocker
P2P Optimized Servers for streaming and file sharing
Servers that are Netflix compatible
Security Protocols: PPTP, L2TP, OpenVPN (UDP, TCP), OpenConnect, IPsec and IKEv2
Internet Kill Switch
256-Bit Encryption
10 Simultaneous Connection
Take Control and Secure Valuable Data from Falling in the Wrong Hands This Black Friday/Cyber Monday!
This is just FastestVPN's way of wishing you happy holidays and keeping the festivities alive! Get the subscription and once you are done, you have successfully bought your ticket to secure your online privacy with the popular 5-year offer for the next 1825 days! Make a smart decision now and get your hands on this deal before you regret it. Tick tock.
Get FastestVPN Black Friday/Cyber Monday VPN Deals – 93% discount on 5 Year Plan, cost just $40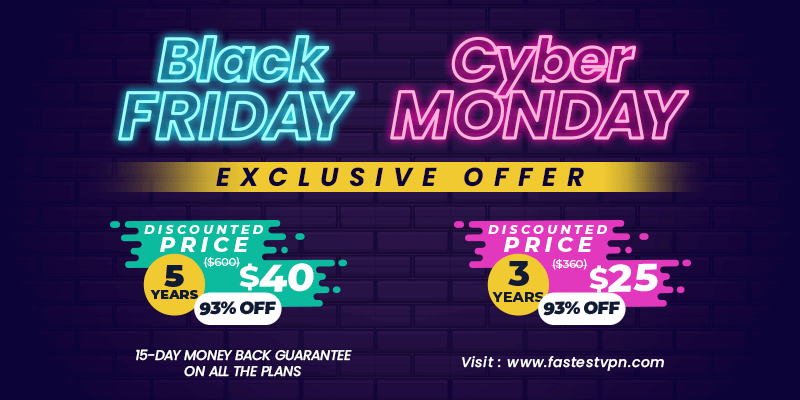 Take Control of Your Privacy Today!
Unblock websites, access streaming platforms, and bypass ISP monitoring.
Get FastestVPN