Do you Need a Popcorn Time VPN?
Do you Need a Popcorn Time VPN?
By Nancy William No Comments 13 minutes
Popcorn Time offers a whole plethora of movies, TV series and other content all ready for streaming, and that too for free! However, there are a few risks that come with it, since the service runs on a torrenting client. It's mostly why we recommend using the best Popcorn Time VPN to eliminate the issues.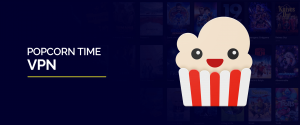 Plus, Popcorn Time isn't widely available around the world due to geo-restrictions. It's the same case when trying to bypass Torrent blocking in countries that don't allow it. A reliable VPN that supports both Popcorn Time and Torrents is what you're looking for, and FastestVPN is definitely a great choice for that!
Before moving ahead, and just in case you need to jump right to the best Popcorn Time VPN, here's a table of contents to help out.
Table of Contents
What is Popcorn Time?
Popcorn Time is a streaming application, somewhat similar to other popular online streaming apps like Netflix.  It allows you to watch your favorite Movies and TV shows online and for as many times as you like. But unlike Netflix, Popcorn Time provides its streaming content for free using torrent protocols.
Even though torrenting is legal, downloading content that may be copyrighted can get you in a lot of trouble. This doesn't mean that users cannot access Popcorn Time securely.
By using a Popcorn Time VPN, you can securely watch your favorite content. A VPN gives you complete freedom and privacy to enjoy streaming media content anonymously. Its data encryption features and security protocols allow you to access Popcorn Time without being monitored.
Whether you want to stream the latest movies or top-rated TV shows in history, you can do all that by using a top VPN service.
Do I Need a VPN for Popcorn Time
There are many reasons to use a VPN for Popcorn Time. Apart from keeping you anonymous against tracking and monitoring, a VPN will guarantee your online safety and security.
Once you sign-up to a Best VPN for Popcorn Time, you will be allocated with a new IP address (depending on the server location you have selected). Your original IP is masked with a new IP.
This means that even when you are in the US, the VPN will allocate you a non-US IP address and make it appear as if you are logged in from another region. Plus, Popcorn Time is blocked in some countries, using a VPN you will be able to bypass these issues.
There are other benefits as well. Using the same Popcorn Time VPN, you will be able to gain access to blocked content like Netflix, from anywhere in the world. Every server you connect to will allow access to numerous services that may or may not be available where you're located. Even though we are faced with geo-restrictions online, a VPN can give you access to restricted content with ease.
When it comes to the best Popcorn Time VPN in 2021, FastestVPN is certainly one of the best out there.
Best VPN for Popcorn Time: FastestVPN
Since Popcorn Time downloads all its content through VPN for Torrent in the background and brings you real-time streaming, it can expose your IP address to monitoring and tracking. A VPN changes your IP address and keeps you anonymous all the time while you enjoy your favorite HD video streaming.
When it comes to using Popcorn Time while keeping the user safe and secure, FastestVPN is the best VPN for popcorn time. It keeps zero logs and uses unique IP addresses, making it impossible for snoopers and cybercriminals to identify the user. FastestVPN offers amazing speed for streaming videos and enables you to use Popcorn Time on any device you own.
FastestVPN has more than servers in 30+ countries worldwide that users can use to become anonymous anytime.
Is VPN Safe?
Now that we all know why it is best to use a VPN, the next important thing to know is whether it is safe or not. When you choose a VPN service like FastestVPN, you don't have to worry about your internet safety. FastestVPN is the best VPN for popcorn time, as it has zero log policy, meaning that your internet traffic is never monitored or stored anywhere. Additionally, FastestVPN restricts any third party service to have access to your account, meaning that only you have the access to your account.
With FastestVPN you don't have to concern yourself with your overall internet security and privacy. FastestVPN provides you with amazing security features like public Wi-Fi security, smart DNS protection, internet kill switching, 256-bit military-grade protection, and more. All these features keep you secure, anonymous and give you the freedom to access block content, thus making FastestVPN the best anonymous VPN for Popcorn Time.
How to Get a Popcorn Time VPN
If you have downloaded and install the Popcorn Time app on your preferred device, follow the steps given below to get FastestVPN and benefit from all its amazing features:
Download and install the FastestVPN app on your device.
Launch the app and login with to your FastestVPN account
Now go to settings, and select a server of your choice.
Done, you can now stream your favorite content on Popcorn Time.
Is Popcorn Time VPN Necessary?
It's very common for new users to ask "Is a Popcorn Time VPN necessary or not?" The answer is yes!
It's very necessary if you require streaming your favorite content in the most secure way possible. And since Popcorn Time uses peer-to-peer technology (Torrent) to provide you with streaming content, a VPN ensures that you are secure from all the illegal activities.
Moreover, you are able to watch your favorite content on your devices and also share the files with others. A VPN also eliminates any tracking and monitoring of your IP address whenever you share files in Popcorn Time with others.
Popcorn Time VPN Warning
If you're new to Popcorn Time and have never used the service before, you will soon get a Popcorn Time VPN warning that pops up whenever you click on a media file. This pop-up message basically warns you that ISPs or cyber intelligence agencies might monitor your online activities if you try to access the media file.
Popcorn Time VPN Not Working
When you start using a VPN for Popcorn Time, you may face an issue where your VPN isn't working. There are many reasons why your VPN isn't working. It may be because of the server downtime or the heavy load on the servers from different users. If this happens, switch your location servers to find out which one is the best for Popcorn Time.
VPN protocols may also cause the service to stop working properly. When this happens, try different protocols to find the correct balance. If such problems continue to occur, contact your VPN provider.
Here's what you could also do to fix the Popcorn Time problem:
First, switch the VPN and Popcorn Time API client off.
Now, launch the Popcorn Time app or website with the VPN disconnected..
Choose which media file you'd like to play, and only then connect to the VPN just as you are about to stream.
That's all!
VPN Disabled
If you're using the latest version of Popcorn Time, then you will be getting tons of "enable VPN" messages, even if you have your VPN enabled. Though there is no direct solution to stop this message from appearing, this issue is only occurring in the latest beta version of Popcorn Time.
The only way of disabling these Popcorn Time VPN warnings is by changing the software version. You can either revert back to an older version or download version 3.10 that will not prompt the VPN warning message or any other errors.
Popcorn Time on Cross Platforms
Popcorn Time is available for all platforms, such as Mac, Android, Chromecast, etc. Here is a simple step by step guide for how you can access Popcorn time on different platforms along with a VPN.
Popcorn Time VPN for Android
You may find numerous VPN services for Android devices, but when you choose FastestVPN, you will enjoy the fast speed and avail a wide range of features. Here is how you can access Popcorn Time on Android devices:
First and foremost, sign up to FastestVPN by creating an account
Search and download the FastestVPN app from Google Play Store.
Install the app on your Android device.
Now, launch the app and log-in using the credentials you created during registration
Go to settings and select a location server you want to connect
Finally, run Popcorn Time on your Android device with complete privacy
Popcorn Time VPN for Chromecast
Google Chromecasts is an innovative device that turns your HD TV into a smart TV. It offers users with amazing features and is easily available in Play Store. You can also use a VPN for Chromecast and enjoy unlimited streaming of your favorite TV shows and movies.
However, there is no built-in VPN support in Chromecast, and it doesn't have any VPN app on Play Store either. Therefore, to configure a VPN for your Chromecast, you will have to first setup the VPN on a router or share the VPN connection through a PC or laptop.
Here is how you can use FastestVPN to access Popcorn Time on Chromecast:
Download and install the VPN app
Configure the VPN on your PC or laptop through a router by selecting a location server of your choice.
Get Popcorn Time on your PC or laptop.
Plug-in your Chromecast device on your TV.
Now, run the Popcorn Time app
Choose the Movie or Show you want to watch and play it.
When the streaming starts, a "Play On" icon will appear.
Click this icon to select your Chromecast device and enjoy your favorite Movies on your Chromecast device.
Popcorn Time VPN for Mac
Using FastestVPN to Stream content on Popcorn Time on Mac is simple. Not only will you be able to access streaming content on your Mac with high speed, but you will be done anonymously. Here is how you can use FastestVPN to access Popcorn Time on Mac or other iOS devices:
Subscribe to FastestVPN
Download the VPN Mac app (get it from our website)
Install the app on your device
Launch FastestVPN app and log in to your account
Now, connect to any preferred location server of your choice to become anonymous
Run Popcorn Time on Mac or iOS devices and enjoy streaming content.
How to Use Popcorn Time Without VPN
Even though you can use Popcorn Time without a VPN, a VPN is recommended to ensure anonymity and protection of data. But if you still want to use it without any VPN protection, here is how you can use it:
Download the Popcorn Time app from any browser on your device
Install the app and launch it
Select any streaming content you want to watch
That's it
Tip: Keep your device up-to-date, always backup your data, and don't click on ads whatsoever.
This may seem really simple but this is very risky and could get you in trouble with copyright violation laws. As mentioned, you need protection in order to stay away from harm's way. If you're not cautious, you will easily be tracked. This is the reason why a Popcorn Time VPN is necessary to ensure complete anonymity and security online.
FAQs
Is Popcorn Time illegal?
No, Popcorn Time is completely legal. However, the illegality lies in whether you stream copyrighted or shared content that is bound under ownership. You will find many countries that don't have any harsh laws against streaming pirated content.
However, if you find yourself living or travelling to countries like the US or the UK, you need to be careful as the laws are stricter. It's why we suggest using FastestVPN as the best Popcorn Time VPN to help secure and anonymize your digital footsteps.
Is it safe to use Popcorn Time without a VPN?
Never use Popcorn Time without a VPN. As mentioned earlier, Popcorn Time uses peer-to-peer technology, which means most of its content is copyrighted. So, if you stream on Popcorn Time without a VPN, you might get in trouble due to copyright laws.
When you use Popcorn Time with a VPN, your IP is visible and tracking you will not be difficult. So it is necessary to get VPN service before you use Popcorn Time.
How does Popcorn Time make its money being a free service?
The case with most streaming services, apps or anything free, is that there is always a catch. So, with that said, we know that Popcorn Time is a free open-source streaming app, so, how does it make its money? Most free apps often monetize their company or resources by collecting and selling user data. However, in the case of Popcorn Time, it offers its own VPN service.
Whenever you open the Popcorn Time app, you will see a warning message that says "Turn on VPN!" This will then prompt you to buy the VPN they're selling. But, ofcourse, never go for an unknown VPN that might not work reliably. It's why we recommended FastestVPN since it's also affordable.
Does Popcorn Time give you viruses?
No, Popcorn Time doesn't give you viruses or malware. However, when you do use the service, make sure you're connected to a Popcorn Time VPN that offers DNS and IP leak protection, a Kill Switch, and top-of-the-line encryption. It will help you stay anonymous if your VPN connection stops midway and prevents your IP address from getting exposed.
Which Popcorn Time is real?
The real and actual domain for Popcorn Time is popcorn-time.tw. There was a  time when popcorntime.sh used to be the actual domain but after a couple of cybersecurity vulnerabilities the host created popcorn-time.tw. You can also find the APK file from popcorntime.app. However, make sure you're connected to a Popcorn Time VPN for security and privacy reasons.
Bottom Line
Even after the discontinuation of the original Popcorn Time version, it remains one of the most favorite free streaming services for many users. Movies and TV shows can be streamed easily without the trouble of finding and downloading virus-free torrent files. However, it may get you in trouble if you are in a region where using peer-to-peer services are banned.
But since it gives users a free streaming option, we recommend everyone to use a Popcorn Time VPN to keep themselves anonymous at all times, even while streaming videos.
Take Control of Your Privacy Today!
Unblock websites, access streaming platforms, and bypass ISP monitoring.
Get FastestVPN