Best Kodi Builds 2023: Supports Kodi 20 (Nexus), 19 & Kodi 18
Best Kodi Builds 2023: Supports Kodi 20 (Nexus), 19 & Kodi 18
By Nancy William No Comments 20 minutes
Kodi is an open-source media player that is free to use and is compatible with several popular operating systems. However, Kodi is taken to new heights when adding a Kodi Build. There are quite a few options, but some don't work in 2023 nor support all Kodi versions. In this guide, we've tested and updated our list of the best Kodi Builds and added new options that support the latest Kodi 20 Nexus. 
All the Kodi Builds on our list offer the best pre-installed add-ons, repositories, and skins that allow you to customize Kodi on your device. Speaking of devices, the best Kodi Builds on our list support FireStick, Windows, Android smartphones, macOS, and a few other Kodi-compatible devices. This makes it easy for all existing Kodi users to choose the best Build and install it easily.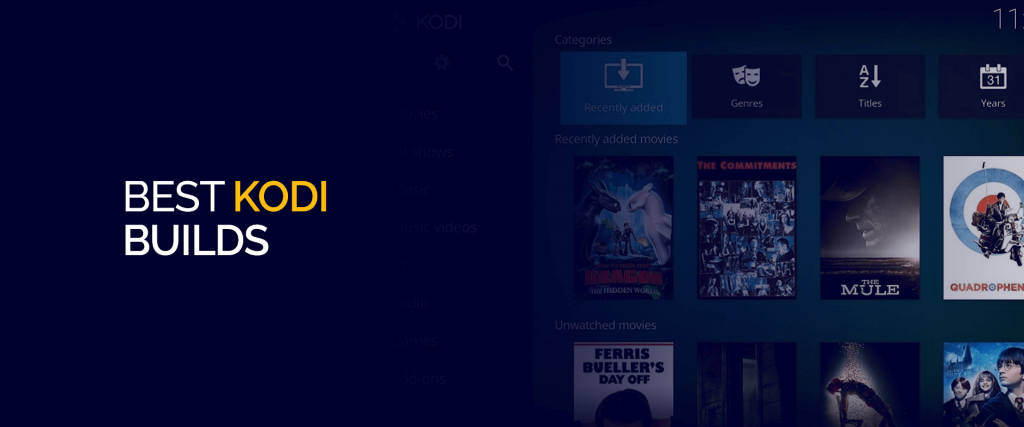 The best Kodi Builds listed below are all available and easy to access. The Kodi skins can be found in the Kodi addon repository, which will only change the appearance.
However, wouldn't it be great to have an interface customized with pre-installed add-ons? If you immediately nodded yes, then the Kodi Builds listed below are just for you.
It may also greatly assist new Kodi users who can just install the Kodi builds and have a few of the best Kodi addons installed with it. This eliminates some procedural difficulties and saves a little time.
What are Kodi Builds?
Before heading to the guide on the best Kodi Builds, let's first discuss what Kodi Builds are. Kodi Builds are themes and skins for Kodi with preinstalled addons. Some popular add-ons include Asgard, FEN, Seren, Ghost, and others.
A whole treasure trove of Kodi Builds was developed by various Kodi devotees worldwide. The Kodi Build gives a different feel altogether, and for frequent Kodi users, this will feel like one step into the future. 
The installation setup is easy and just a single click away. Just install the Kodi Build of your choice on your device and get exciting and useful add-ons as a part of the package. They give you access to the best skins and themes for Kodi. There have been quite a few changes over the years, and some Builds that were working last year, are no longer functional. For a brief idea, our list below shows you Kodi Builds that were the best in 2022.
Top 10 Kodi Builds That Were the Best in 2022
No Limits Magic Build
Misfit Mods Lite
Titanium
Route 66
Envision
Slamious
Bio-Hazzard
The list of the best Builds for Kodi is constantly changing, depending on testing, what offers the best repositories, and other factors. Take a look below at the best Kodi Builds for 2023.
The best Kodi Builds in 2023
As mentioned, the list of the best Kodi Builds is constantly changing. However, we've gathered popular new and old options for our updated list, retested them, and listed the best. Some Kodi Builds don't support Kodi 18, while others are only compatible with Kodi 19 Matrix and the latest Kodi 20 Nexus. We've covered the top 29 best Kodi Builds in 2023 suitable for your Kodi version: 
1. No Limits Magic Build
The No Limits Magic Build is by far one of the most popular Kodi Builds, even today. Installing it will make accessing addons and unlimited content quite easy. It's known for its unique interface and its Aeon Nox Silvo Skin. Its list of add-ons is constantly being revised, and features are designed to be futuristic. Some add-ons available on the No Limits Magic Build are Covenant, Bennu, BOB Unleashed, Elysium, Quantum, and Stream Army. You can get the build from the No Limits Wizard repo.
2. Diggz Xenon
Second, on the list for the best Kodi Builds in 2023 is Diggz Xenon. It's available for Kodi 19 Matrix, has a user-friendly interface, and is easy to use. It gives you a variety of content to stream from add-ons, ranging from movies, TV Shows, Sports, music, and much more. There is even a favorites section where you can add content. Some of the more popular add-ons within the Diggz Xenon Kodi Build include The Crew, Asgard, The Magic Dragon, Disney Plus, Schwifty, and others. Another plus point about this Kodi Build is that it's small enough to be supported by almost any device, including Firestick. 
3. Diggz Chef
Next on the list of the best Builds for Kodi in 2023 is Diggz Chef. even though it supports the latest Kodi 20 Nexus and 19, it might not be as good as the others on the list. The Diggz developer had retracted all of the popular Builds previously available in its repository, including the Diggz Xenon Build. This is why Diggz Chef only highlights a few Builds. Although, if we talk about the add-ons it gives you, they include The Magic Dragon, Adina, The Crew, Homelander, and a couple of others. 
4. Wookie Build
Wookie is the best Kodi Build for exclusive content. The Build's main content is HD movies, TV shows, Sports, Kids, and more. There are some maintenance add-ons too. This Kodi build is best for sports lovers and includes add-ons such as Bob unleashed, sports world, nemesis, Deliverance, hallow TV, boom, stream hub, Poseidon, UK Turk, covenant, Wolfpack, and GoodFellas.
5. Durex Build
The Durex Build is amongst the top 4 constantly in the best Kodi builds list. This is owing to its numerous advantages, one of them being its tremendous performance despite its size of 470 MBs. It is also the best Kodi build for Firestick as it works the fastest compared to the others. Genesis Reborn, Argon live Tv, Neptune Rising, Uranus, Skynet, Placenta, and Pure Sports Kodi are some of the best-preinstalled addons available in this build. The build can be installed via Durex wizard.
6. The Crew Wizard
If you've heard of the famous Crew Repo, then The Crew Wizard is one of its best products that give you a wide selection of Kodi Builds. The Crew Wizard supports both Kodi Nexus 20 and Kodi Matrix 19. With this Wizard, you get top-quality feature Builds like Crewzion, Crews Odyssey, Green Monster, and more. It can be installed on high-spec and low-strength devices like Windows, Android, and iOS smartphones, and even Firestick. It's easy to install and use, and you'll be able to get some of the best add-ons, like The Magic Dragon, to stream various content categories like movies, TV shows, sports, etc.
7. Titanium Build
The Titanium Build has commendable content of TV shows, Sports, Movies, Live IPTV, and more available for Kodi 18 and 17. This Kodi Build has existed for many years and is available through the supreme build repository. It has add-ons under every category possible, and in comparison to other builds, it has both paid and free IPTV services to offer. If you have a paid subscription already to one of the paid IPTV services, then you can use that within the titanium Kodi build. If, however, the Titanium Kodi Build is not available to you, you can always choose other Builds from the list. 
8. MisFit Mods Lite
The Misfit Mods Lite Kodi Build is great for Kodi users with little memory on their devices, and it is compatible with Kodi 19 Matrix. With this build, you can stream all of your favorite media content with as little effort as possible. MisFit Mods Lite is truly an amazing Build with a vast library of media content, ranging from movies, TV shows, sports, kids' TV, and Real Debrid. Popular Kodi add-ons on this Build include Rising Tides, Kodiverse, Seren, and The Crew. 
9. Turbo Kodi Build
Turbo Build is the best Kodi build for PC. It offers a variety of content ranging from categories like TV shows, Live TV, Sports, Kids, Music, and other apps. It also has multi-scraper features and is very robust. Just ensure you go for fresh installation while getting this Build for Kodi. There are two versions available for Turbo Kodi Build – normal and lite. If you're using the Turbo Build on Firestick, you can go for the Lite version.
10. Grindhouse
Grindhouse is a solid Kodi Build Wizard with several unique Builds and add-ons for Kodi 20, Kodi 19, and 18. The Grindhouse Kodi build is full of content ranging from various categories like movies, TV shows, sports, live TV, favorites, and more. Some of its add-ons included within the Grindhouse builds are; Asgard, Numb3r5, Magic Dragon The Crew, and Jor-El. When choosing the best Kodi Build, make sure you choose Grindhouse.
11. EzzerMacs
EzzerMacs, also known as EzzerMan, is one of the best Kodi Wizards that houses many popular Kodi Builds. The best part is that EzzerMacs supports Kodi 20, 19, and 18. Whether you need movies, TV shows, kids' TV, family shows, or even Real Debrid, EzzerMacs offers it. All kinds of Builds within its Wizard, ranging from feature-rich to lightweight, offer this content. Its most popular add-ons include Magic Dragon, Rising Tides, Asgard, and Mad Titan Sports. 
12. cMan Wizard
The cMan Wizard houses a pretty impressive list of Kodi Builds. In fact, it has some of the other Builds listed here within its wizard. Plus, with it on your device, you can install other Builds, including Mad Dragon, Resurrection, Simplex, Edge, Nitro, and others. The cMan Wizard makes a good addition also because it supports Kodi 20 and Kodi 19. 
13. Plutonium
Next, we have Plutonium, one of the best Builds from the collection of the EzzerMac Wizzard. It packs a heavy punch in offering a wide variety of content while at the same time coming with some really vibrant Skins. This Kodi Build is compatible with both Kodi 20 Nexus and Kodi 19 Matrix. It gives you access to some of the best Kodi add-ons like Asgard, Patriot, The Magic Dragon, Black Lightning, and more. The file size is pretty compact, so it can easily be installed on low-spec devices like Firestick and Android TV Boxes. 
14. Stealth Build
Just as the name implies, the Stealth Kodi build is sturdy and secure to be used on Android TV boxes and Amazon Firestick. This build has vast content with an interface similar to the Kodi Jarvis version. It is available on the SG wizard in the SG repository. The SG wizard has 3 versions, including stealth, which are ultimate and atripid. If you want Tv shows, music, sports, IPTV and more on PC and laptops, then the ultimate version is a better option for you.
15. Xontech light Kodi Build
Xontech light is a very lightweight Kodi build that does not put a load on your device. It is a great build for IPTV enthusiasts as it has the best IPTV features. The categories and everything else is pretty much similar, but the edge that this build has over others is that its live TV section is full of new and updated content – all with working links. It can be found in the AJ Wizard, which includes AJ Builds, Becky builds, Pauls builds, and community builds.
16. Xenon
The Xenon Kodi build pulls streams from 56+ add-ons, which is an attracting point for Kodi users as it minimizes time spent on addon installation. The addon list is amazing with add-ons like maverick, Skynet, bob unleashed, stream hub, and more. A distinguishing factor is that this Kodi build also has a weather widget. Is that cool or is that cool?!
17. Fire TV Guru Kodi Build
Fire TV Guru Build is mild and pleasant to the eyes. It has light scenic background colors and uses the Xonfire skin. To get this build you must clear your old data on Kodi and make a fresh install. What makes this addon so great is the fact that the fire TV wizard has separate internet tools and a retro gaming wizard. But the downside of the build is that it pulls fewer streams in comparison and addons in comparison are also less. If it is updated with more streams in the future, it makes up for a great build overall.
18. Equinox Kodi Build
This is one of the best Kodi builds which is fully packed with entertainment. It has plenty of categories to satisfy everyone's entertainment hunger. The user can choose from sections like movies, TV shows, Sports, 24/7, Kids zone, documentaries, and much more. This build is especially epic for those sports lovers. The size of the build is high, yet the performance is smooth and steady. If you have a Firestick, you may want to choose another build though this one runs exceptionally on all other devices.
19. Atomic Reborn Kodi Build
The "Reborn" in the Atomic Reborn Kodi build suggests that it is a new version of the previous Atomic build. It is one of the best Kodi builds simply because it gained popularity from the 4K video streaming it has to offer. The build is updated quite regularly, which makes it a good option to have. The add-ons this build pulls streams from include Neptune rising, placenta, Maverick, Monster Munch, The pyramid, Prometheus, and Buckys.
20. Warlock Kodi Build
The Warlock Kodi build makes a great choice when it comes to performance and speed. It is lightweight. Even though the size is smaller than the Durex build, it lags a little which makes it second best. Though in addition to all the entertainment it offers, it also has maintenance addons that ensure optimal performance. Due to its low size and less memory consumption, we recommend it for 2nd gen Firestick and Android Boxes.
Note: No matter which device you choose to download the build on, remember that Kodi is open source and makes you vulnerable to threats online. Get complete anonymity and secure all your devices with FastestVPN.
21. Pulse CCM Kodi Build
The build for Pulse CCM is premium and undeniably the best Kodi build for entertainment. This is also available on the Fire TV Guru repository and uses the Fire TV wizard for installation. The add-on, however, is having little issues as recently which is why we cannot assure you that it will work well on all devices right now. Though once all problems with the build are addressed, this makes for a great Kodi build.
22. Xanax
Xanax is by far the best Kodi build in the aspect that it offers all the best skins and themes. Xanax was developed by the same people who developed the renowned Durex build. Not surprisingly that Xanax also has a similar interface design and layout as Durex. It used to support Kodi 18 but is no longer functional on it. You can, however, still use it with Kodi 19.
If you wish to download and use this Xanax Kodi Build for your Kodi just remember to also subscribe to FastestVPN for added security and to ensure you don't run to any geo-restrictions when downloading this build.
23. CellarDoor TV
The Cellardoor TV Kodi build, has been gaining popularity recently for its size and usability. As other Kodi Builds come and go, CellarDoor TV works perfectly on nearly every Kodi device. Many people, however, love CellarDoor's sleek interface along with its vast streaming options.
24. Blue Magic
The Blue Magic Kodi build is a simple choice for old Kodi users. Featuring an easy to use interface, which gives multiple categories for streaming all their content. Compared to the other Kodi builds in our list, Blue Magic also comes with the best add-ons available for all.
25. BK Links
BK Links is an amazing Kodi build built to satisfy all your viewing needs. However, due to its size, this build may not be able to be downloaded on all devices. For those who can download this build, BK Links has numerous great options for 4K viewing, Sports fans, Kids, and much more.
26. Maze
For Kodi users looking for small but accessible Kodi builds, Maze is the go-to choice. Maze is an extremely fast Kodi build, which uses updated add-ons, with no shortage of content for its users. There are numerous Kodi build versions at Maze including a dedicated family version for PG-rated add-ons.
27. Streamline
When using Kodi 18 Leia to find the best Kodi builds, you can't go wrong with the Streamline Kodi Build. As a lightweight yet powerful build, Streamline also comes with numerous add-ons. Their interface is extremely smooth, and there are plenty of sources to choose from when viewing your favorite content, but you might run into geo-restrictions when downloading this Kodi Build, which is why downloading FastestVPN is absolutely essential.
28. Doomzday Wizard
The Doomzday Build is one of the best and more appealing Kodi Builds that offer a vast variety of content, categories, and a unique interface. Doomzday is an extremely easy-to-use Kodi Build compatible with both Kodi 20 Nexus and Kodi 19 Matrix. It comes with many exciting add-ons such as; The Magic Dragon, DeathStar, Loki, Venom, and much more. You can easily install this Wizard on your Firestick, Windows, Android TV Boxes, and many other Kodi-supported devices. Doomzday Build makes a great choice if you're looking for a Kodi Build that gives you movies, TV shows, sports, live TV, and more.
29. Lobo Kodi Build
Lobo build for Kodi is from the one nation repository. It is relatively new than the rest which is an advantage as the addons are then updated and working great. The performance is extraordinary and doesn't lag despite its size. The interface is somewhat similar to the Ares build so if you have used that already, you might want to try some other build this time around.
Best Kodi Build Working Repositories
Some of the best Kodi builds are extracted from different places, put in one place, and listed below. All the Kodi builds are tried and tested which means they are set to be downloaded and will work great for you too. To ease your installation process, the table below has a list of all the Kodi builds with repositories:
| | | | |
| --- | --- | --- | --- |
| Kodi Builds  | Repository | URL  | Size (MB) |
| No Limits Magic | No Limits Wizard  | https://www.nolimitswiz.appboxes.co | 285 |
| Diggz Xenon | diggzrepo | https://diggz1.me/diggzrepo | 650 |
| Diggz Chef | diggzrepo | https://diggz1.me/diggzrepo/ | 400 |
| Wookie Build  | Wookie Repo and Wizard | http://wiz.wookiespmc.com | 200 |
| Durex Build  | Durex Wizard | http://www.drxbld.com/wiz/ | 120 |
| The Crew Wizard | The Crew Repo | https://team-crew.github.io | 100 |
| Titanium Build | Supreme Builds | http://repo.supremebuilds.com | 120 |
| Misfit Mods Lite  | /mmwiz/repo | http://misfitmods.com/mmwiz/repo/ | 143 |
| Turbo Kodi Build  | TurboJ TV Repository | http://turbojtv.com/repo/ | 260 |
| Grindhouse  | Grindhouse Repository | http://grindhousekodi.tk/repo | 250 |
| EzzerMacs | EzzerMacs Wizard Repo. | http://ezzer-mac.com/repo | 266 |
| cMan Wizard  | cMaN's Wizard Repository | http://cmanbuilds.com/repo | 155 |
| Plutonium  | /repo | http://ezzer-mac.com/repo | 140 |
| Stealth Build  | SG repository | http://sgwizard.96.lt/ | 264 |
| Xontech Light  | AJ repository | http://ajbuilds.uk/repo/ | 371 |
| Xenon | Kodigeeks Wizard | http://repo.kodigeeks.com/ | 405 |
| Fire TV Guru | Fire TV Guru Repo  | http://firetvguru.net/fire | 335 |
| Equinox | Genie TV Repo  | http://genietv.co.uk/repo/ | 410 |
| Atomic Reborn  | Misfit Mods Repository | http://misfitmods com/mmwiz/ | 410 |
| Warlock Kodi Build  | Warlock Wizard | http://warlockmedia.eu/warlockwizard/ | 100 |
| Pulse CCM  | Fire TV Guru | http://firetvguru.net/fire | 182 |
| Xanax | /repo | http://teamdork.xyz/repo/ | 266 |
| CellarDoor TV | /repo | http://cellardoortv.com/repo/ | 215 |
| Blue Magic  | /luxury | http://luxurywizard.space/luxury/ | 260 |
| BK Links  | Repo | http://streamdigital.org/wiz/ | 288 |
| Maze | /repo | http://mazebuilds.co.uk/repo | 92 |
| Streamline | /wizard | http://whizkid.one/wizard | 219 |
| Doomzday Wizard | Doomzday | http://doomzday.xyz/Doomzday | 289 |
| Lobo Kodi Build  | One Nation Repository | http://www.onenation.info/Repo/ | 156 |
The Best Builds for Kodi Leia 18
MisFit Mods Lite
No Limits Magic Build
Titanium Build
Silvo
CellarDoor TV
EzzerMacs
Maverick
Note: It is always recommended to use FastestVPN with Kodi for privacy and security. It is a VPN that is fast, friendly, ensures anonymity, provides unlimited bandwidth and has a zero logging policy.
The Best Builds for Kodi Matrix 19
These Kodi Builds are currently the best for Kodi Matrix 19 in 2023. They are;
Diggz Xenon

Alienware

Daemon

Element

Doomzday

Wizard

Zilt Build

Matrix

Plutonium

EzzerMacs
Best Kodi Builds for Kodi 20 Nexus
The Kodi Nexus 20 is currently the latest version. So, if you're using it, there might be a few compatible Builds: 
Doomzday Wizard 

The Crew 

Diggz Chef

Grindhouse 

Plutonium 

cMan Wizard 

EzzerMacs
How to Add a Build on Kodi
Since the No Limits Magic Build is currently the most popular, I'll show you how to add it to Kodi in the tutorial below. But, first, understand that the No Limits Magic Build works only on Kodi 18 Leia.
To begin, you need to enable the apps from unknown sources, since you're installing third-party apps. Here's how:
Go to "Settings," click on "System" then "Add-ons" and lastly on "Unknown Sources." Enable the option by sliding the bar.
Click on "Yes" when prompted.
Next, you have to add the Build source to install the repository. Here's how:
Head back to the "Kodi" home screen and click on the settings gear icon, which looks like a wheel.
Click on "File Manager" and then on "Add Source."
Select "None" when prompted.
Enter the No Limits Wizard repository "https://www.nolimitswiz.appboxes.co." in the field, and then click on "OK."
Now, under the area where it says "Enter a name for this media source" enter a customary name. For instance "No Limits Magic repo"
Click on "OK."
Click on "OK" again when prompted to save all changes.
Go back one time, and click on "Add-ons."
Now, click on "Install from zip file."
Choose the repository that you named previously, which was "No Limits Magic repo."
Click on "plugin.video.nolimitswizard18.zip" for Kodi 18 Leia.
After a couple of minutes, you should get a notification saying "No Limits Wizard 18 Add-on installed" on the top-right corner of the screen.
When prompted, click on "Continue."
You'll be prompted with another pop-up, click on "Ignore."
Now, install the No Limits Build from the No Limits Wizard:
Go to the Kodi home screen and click on "Add-ons" then "Program Add-ons," ultimately selecting "No Limits Wizard12" add-on.
Click on "INSTALL/UPDATE NO LIMITS BUILDS"
There will be a number of builds, select whichever one seems convenient. We went with "No Limits Magic No XXX Section."
Now select "FRESH INSTALL (Erase, then Install New Build)."
Click on "Continue" to confirm it.
What for the repo to install. It will take some time.
After the Build is installed, you'll be prompted with a pop-up box. Click on "Force Close."
Re-open Kodi on your device and start using your Kodi Build!
FAQs - Best Kodi Builds
What devices can you set up a Kodi Build on?
You can install a Kodi Build on Linux, OSX, Windows, iOS, tvOS, Firestick, and Android. With that, you can use FastestVPN while accessing Kodi Builds on supported devices. Plus, with one FastestVPN subscription, you can make up to 10 multi-device connections.
What are the best Kodi Builds?
There are many Kodi Builds that are great but not every Build is the best. The best Kodi Builds today are No Limits Magic Dragon, Misfit Mods Lite, Diggz Xenon, Titanium and a couple others in the list above.
Is it illegal to install a Kodi Build?
No, it's perfectly legal to install a Kodi Build and use it. However, make sure that the content you're streaming is not illegal.
What is the fastest Build for Kodi?
So far, Lobo Kodi Build is labeled as the fastest. You will find this Build easily on the One Nation repository.
Is it dangerous to use a Kodi Build?
There are situations when using a Kodi Build is deemed as dangerous. This is because they come with Kodi add-ons that are not trustworthy. When or if you access a malicious Kodi add-on via the Builds, you could lose data or breach your online privacy. However, the best fix for using Kodi Builds is a VPN. FastestVPN is the best Kodi Build VPN that is affordable and comes with military-level security features.
What is the most popular Kodi Build?
No Limits Magic and Xenon are currently the most popular and widely used Kodi Builds even in 2023. They're easy to use, and their interface is intuitive, offering you an extensive list of movies, TV shows, Kodi add-ons, and skins.
Is Xanax Build still working?
Yes, the Xanax Kodi Build is still working on Kodi 19, but it is no longer supported by Kodi 18. You can use some of its alternatives from our list above.
What is the easiest Kodi Build to use?
The Xenon and Diggz Xenon are the easiest to use, and their small size is perfect for most streaming devices, including Firestick.
Conclusion – Best Kodi Build 2023
We have added the majority of the best working Kodi builds of 2023 to the list. All of these are tried and tested and while a few might be facing some issues (typically usual for Kodi), the rest are working perfectly well.
However, before accessing any of the Kodi Builds, you need to also know how to set up and use a Kodi VPN. FastestVPN is currently one of the best Kodi VPNs that allow strong security and privacy – you can avoid any legal notices with it. Plus, since Kodi is a free and open-sourced app, it's all the more reason to stay protected while using it, Kodi Builds, or add-ons.
Take Control of Your Privacy Today!
Unblock websites, access streaming platforms, and bypass ISP monitoring.
Get FastestVPN