Best Christmas Movies on Amazon Prime
Best Christmas Movies on Amazon Prime
By Christine Margret No Comments 7 minutes
The movie night season is officially upon us, and it's the right time to explore some of the best holiday flicks. Therefore, FastestVPN is all set to supercharge your Christmas eve with the list of the best Christmas movies on Amazon Prime.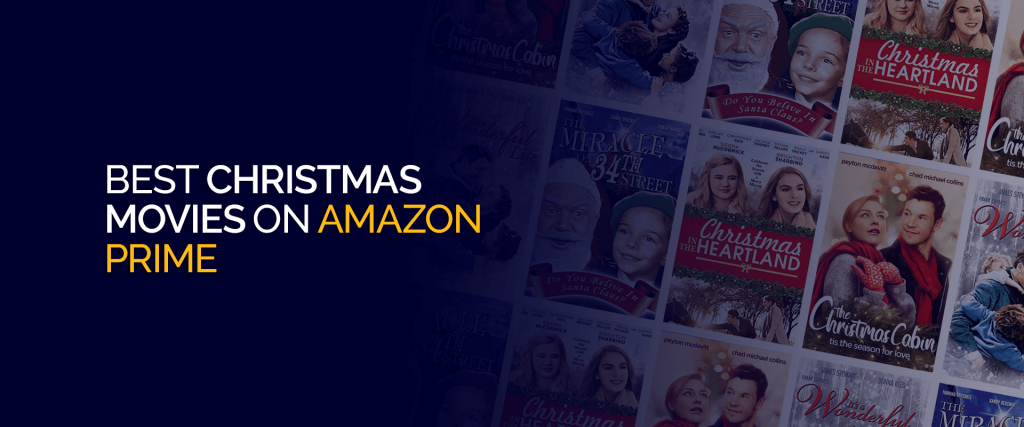 Whether you love to watch family warmth or are willing to curl up on the couch to watch some adventurous Christmas movies, we have got it all.
In this list of the best Christmas movies on Amazon Prime, we will share a wide selection of Christmas movies to stream. So, let's turn up your holiday spirit, start wrapping the presents, and decorate your Christmas tree while enjoying the best Christmas movies this December.
Best Christmas Movies to Stream On Amazon Prime
The holiday season is incomplete without watching your favorite Christmas movies. So, get ready to cozy up yourself and check out the best holiday and Christmas movies on Amazon Prime.
Right now, Amazon Prime has a vast range of available options to stream on-demand. Below you can find out our selective list of the best Christmas movies to stream on Amazon Prime.
The Santa Clause
You can always count on a movie like The Santa Clause. It's a fun movie where you will enjoy lots of comedy. The movie features a story of a divorced man who has a son. Tim Allen is playing the character of the divorced dad, and he accidentally kills the Santa who reaches on his roof. Lately, Tim Allen has to perform Santa's Christmas tasks and starts his funniest journey to the North Pole.
The Holiday
The Holiday is a romantic comedy-drama that features the story of two depressed and dumped women who meet online and swap their homes for the sake of peace and break. However, as soon as they both reach their destinations, they fall in love. Both women soon realize that the change in their addresses proved to be a change in their lives as well.
Jingle All the Way
Another fantastic Christmas movie that is worth a watch is Jingle all the way. It's a comedy movie that features the story of Howard Langston (Arnold Schwarzenegger), a busy salesman who never makes time for his family. Howard promises his son to get him his most favorite Turbo-man action figure doll on Christmas eve. Yet, the whole plot takes a turn when Howard comes to know that the same doll has been sold out since half of the city was buying the same doll on Christmas. The quest for the doll begins, and Howard starts to know the real meaning and importance of Christmas.
How the Grinch Stole Christmas
Besides family, love, and comedy, you can also watch the best animated Christmas movies like How the Grinch Stole Christmas. The movie is amazing, featuring a bad-tempered green Grinch who lives on a mountaintop with his dog Max. As soon as Christmas reaches, Grinch gets terrible and makes a plan with his dog to steal Christmas presents to ruin the eve for the citizens of Whoville. However, his bad plan fails when he meets the adorable little Cindy Lou (Taylor Momsen).
The Best Man Holiday
The Best Man Holiday is a classic Christmas movie to watch on Amazon Prime. You will love this movie as it covers the story of five college friends who reunite on Christmas after 15 years. Their lives have been changed completely now; however, they realized that old rivalries and romances could be rekindled anytime.
Nothing Like the Holidays
Nothing Like the Holidays is a family fun movie where you will get to see a lot of drama, gossip, and hearsay that a family does when gathering around the Christmas feast table.
14 Christmas Cartoon Classics
If you're looking for some vintage Christmas cartoons, you can binge-watch all of them on Amazon Prime. The exclusive two-hour mashup brings you all your favorite old Christmas cartoons, including Jack Frost, Toys Will Be Toys, Rudolph the Red-Nosed Reindeer, Snow Foolin', and many others.
Rise of the Guardians
Rise of the guardian is a fantastic Christmas movie that you and your kids need to watch for fun. The animated movie revolves around a Santa Claus, an Easter Bunny, a Sandman, and a Tooth Fairy. All these are immortal guardians who unseeingly protect kids in the world with the power of love and magic. However, the guardians begin to lose their powers when a black force makes kids believe that no Guardians exist in the world. Soon, a sprite appears who helps guardians and saves kids around the world.
It's a Wonderful Life
It's a Wonderful Life is a classic Christmas and an all-time favorite movie. For anyone who loves to watch old classics, this movie is the best option. The main focus is on the importance and value of life. The story describes the life of a man who is a suicidal businessman.
Lately, an angel sent him to make him realize the importance of life and the world, and change his suicidal thoughts. The angel also shows him the world without him, which makes him feel astonished.
The Polar Express
The Polar Express is a fun movie where a young boy boards a special train that stops in front of his home in the middle of the night. The boy starts his quest to reach the North Pole to meet Santa. His journey becomes even more amazing when he meets several people who give him good lessons on life and values.
Love Actually
Love Actually is a combination of nine intertwined stories. It's one of the best Christmas movies right now on Amazon Prime. In this movie, you'll see different stories and the main center is love. It's a great combination of multiple love affairs where a married man falls in love with his new secretary. Also, you will see a story of a new British Prime Minister who falls in love with a junior staff member. Besides that, the movie also covers a story of a man who starts loving his best friend's wife. Not only that, the movie also features the story of a boy who loves his mentally ill brother and that complicates his love life. If you're looking for some drama and emotions, this should be your go-to movie.
Other Christmas Movies to Watch on Amazon Prime
Finding Father Christmas
Throwback Holiday
A Christmas Princess
The Ultimate Gift
The Family Tree
Falling for Christmas
The Night Before Christmas
12 Dates of Christmas
A New Husband for Christmas
The Spirit of Christmas
The Cat in the Hat Knows a Lot About Christmas
The Christmas Elves
How to unblock Amazon Prime Video to watch Christmas Movies?
Amazon Prime Video offers a wide range of shows and movies. However, these movies are restricted according to the country you live in. However, you can unblock Amazon Prime Video to watch Christmas movies from other countries' libraries. Here's how to unblock Amazon Prime Video with FastestVPN:
Subscribe to FastestVPN
Log in on the extension
Select USA server
Head to Amazon Prime website using your browser
Now, you can stream a wide range of shows and Amazon Prime movies.
Conclusion
This was our list of the best Christmas movies on Amazon Prime. All the listed movies are forever loved, and trying them out will surely make your holiday movie time memorable. So, decide your holiday menu and try the best Christmas movies listed above and available right now on Amazon Prime.

Take Control of Your Privacy Today!
Unblock websites, access streaming platforms, and bypass ISP monitoring.
Get FastestVPN