Unblock Amazon Prime from Anywhere
Unblock Amazon Prime from Anywhere
By Johan Curtis No Comments 7 minutes
Amazon Prime is a premium subscription package that offers exclusive discounts, offers and services that are unavailable through the regular Amazon portal. However, Amazon restricts access for Prime services to a few select regions or countries. To access Amazon Prime from anywhere else, you need to mask your IP address by using a VPN service like FastestVPN. Therefore, in this piece, we discuss how to unblock Amazon Prime from Anywhere in the world and other relevant tips and tricks to use.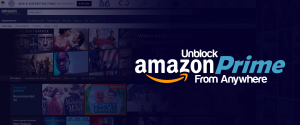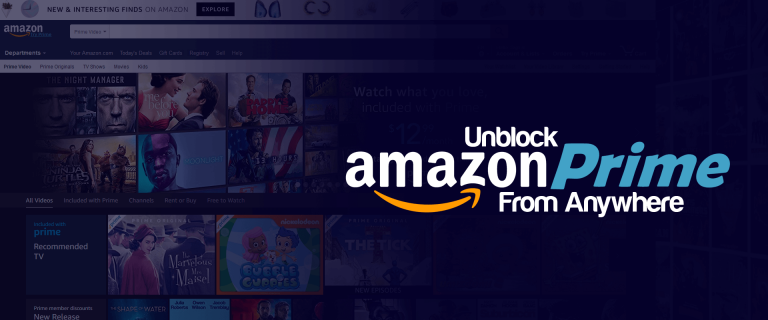 What is Amazon Prime
As mentioned earlier, Amazon Prime is a premium subscription-based service that gives subscribers access to exclusive content, services, features, discounts and offers. The special features include free same-day and two-day shipping, unique opportunities to save at stores like Whole Foods, Prime Wardrobe and Amazon Fresh.
Furthermore, every Amazon Prime account comes with an Amazon Prime Video subscription. Prime Video grants usersaccess to unlimited movies, TV-Shows, music, Twitch services and more. Moreover, you can watch your favourite shows and movies from HBO, SHOWTIME and STARZ channels. Given the popularity of the United States' most popular e-commerce platform, Amazon Prime rakes in a considerable number of regular viewers and a subscriber count of more than 100 million.
How much does Amazon Prime cost?
The standard Amazon Prime subscription costs $119 for a yearly subscription or $12.99 per month. However, Amazon does offer a special discount to students which costs far less. If you can prove your "student" status, you can subscribe to Amazon Prime for a low $59 for the year or $6.49 per month. Keep in mind that this discount only lasts as long as you are a student. As soon as you graduate, you automatically switch to standard rates.
Why do you need to unblock Amazon Prime?
Unfortunately, you can only access and use Amazon Prime from within the USA or Puerto Rico. In other words, if you try and browse to Amazon Prime website from any other country, say Spain, you'll get a standard message saying "not available in your country/region". And that is the root of the issue. Usually, shows coming from a specific country control content coming from their country with copyright and distribution laws. Therefore, you can access said content only from within the nation of origin, or elsewhere if licensed. Websites and services such as Amazon determine your location through the IP address you use to access the service. This address contains specific data detailing the origin of internet traffic.If the address doesn't match an acceptable country code on the server's list, Amazon Prim automatically blocks the content.
Even if you are a paying Amazon Prime subscriber, you cannot access any discounts, exclusive offers and media outside the USA and Puerto Rico.Which means you can't look forward to watching your favourite TV-show after a long and arduous meeting. By controlling who has access to Amazon Prime, the company geo-restricts its content and the only way to get passed this blockade is with a premium, risk-free VPN like FastestVPN.
What is a VPN, and how does it work?
A VPN is a software program or app designed to mask your IP address (the unique ID associated with your device) and reroute all internet traffic to and from your device. The exact route depends on your requirements. For instance, you can change your IP address and unban Omegle or unblock streaming services. So, in this case, to login to Amazon Prime, you would select a US server and IP address.
Furthermore, VPNs like FastestVPN use advanced encryption protocols and robust architecture to secure your internet connection and improve your overall experience. A VPN is the perfect solution for bypassing geo-restrictions given the ease of use and the level of security offered.
Some of the most salient features offered by FastestVPN include:
AES-256-bit encryption;
Unlimited bandwidth;
Zero tracking or logging of activity;
Built-in ad-blocker and anti-malware;
Computability with more than 20 different devices;
Smart tunnelling for routing specific apps;
Smart connect for automatically selecting the best server;
Connect up to 10 devices simultaneously;
Automatic internet kill switch to avoid data leaks in case of downtime;
Built-in firewall and WiFi security;
Chrome and Firefox extensions to activate the VPN at the touch of a button for a specific site.
Moreover, FastestVPN offers 24/7 support and live chat systems for any possible query you could have. However, if you remain unsatisfied with the service or it doesn't meet your needs, FastestVPN gives you a 15-day money-back guarantee – no questions asked.
How to unblock Amazon Prime from anywhere in the world?
So far, we have established that a VPN is the best answer to bypassing Amazon Prime geo-restrictions. Now in this sections, we explain step-by-step how to use Fastest VPN to unblock Amazon Prime from anywhere.
Note: It is important to remember that Amazon doesn't unblock like every streaming service. You can only unblock the contents with Firefox or Chrome Extension.
First, go to fastestvpn.com and subscribe to a package of FastestVPN that works best for you;
Download the Chrome or Firefox Extension;
Navigate to https://support.fastestvpn.com/tutorials and look for the appropriate setup procedure for your device and install accordingly if you want the app on different devices for various purposes;
Log in on the extension with your credentials and select a US IP address then select a US server;
Then on the same browser again and navigate to the Amazon Prime website;
Finally, login and enjoy your video streaming, shopping experience.
How to subscribe to Amazon Prime from anywhere in the world?
In case you don't already have an Amazon Prime subscription follow the steps below to learn how to purchase a subscription form anywhere in the world:
First, follow the steps given above to install and run FastestVPN and select a US server;
Then create a new email address (Gmail or whatever your preferred service);
Then sign-up for a standard Amazon account (free) if you don't have one already;
Then navigate to Amazon's Gift Cards page and purchase a gift card using any credit card (works just as well with a non-us credit card);
The value of the gift card depends on the Amazon Prime subscription you wish to purchase i.e.

One $100 and one $25 gift card for the yearly subscription;
One $25 gift card for either monthly subscription;
One $75 gift card for the annual student subscription;

Next, select delivery by email and enter the relevant details;
Once you receive the redeemable code via email, add the balance to your Amazon account;
Then use the available balance to purchase an Amazon Prime gift card and send it to your new email address;
Login into your new email address and redeem the Gift Card, you will receive a prompt to create a new Amazon account.
Once you create the account and redeem the gift card, you'll have unlimited access to all Amazon Prime content. Just make sure you turn on FastestVPN extension and use a US server.
Conclusion
To recap, Amazon Prime is a subscription service offering unique discounts and video-on-demand streaming services. However, you can access and use Amazon Prime services from within the US or Puerto Rico. Therefore, you need to use a premium, risk-free VPN like FastestVPN to unblock Amazon Prime from anywhere. FastestVPN not only allows access to geo-restricted content, but it also secures your connection and improves privacy. The VPN's built-in smart security and connection features ensure your online experience is unrestrained, flawless and smooth at all times.
Take Control of Your Privacy Today!
Unblock websites, access streaming platforms, and bypass ISP monitoring.
Get FastestVPN