How to Add Channels to Roku Device
How to Add Channels to Roku Device
By Christine Margret No Comments 6 minutes
Roku is one of the most budget-friendly media streaming devices, enabling cord-cutters to access enormous streaming channel libraries.  Among thousands of available streaming channels, you can now select and install your favorite ones.
In this blog, we will walk you through the straightforward processes to help you understand how to add channels to Roku.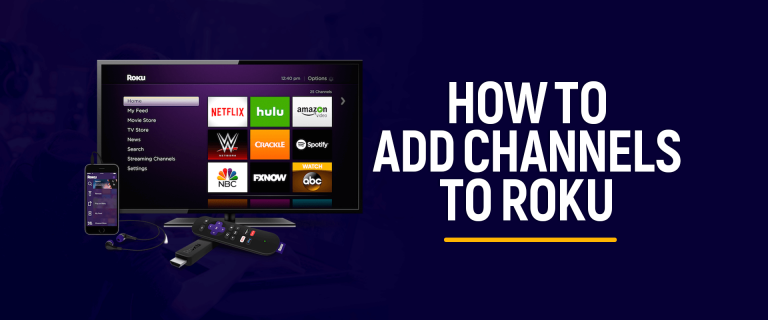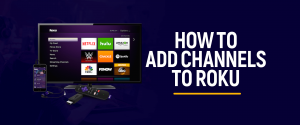 Why Should I Add Channels to Roku?
Adding channels to Roku will let you stream content the way you want. It will customize your entertainment lineup. You can access all your preferred channels effortlessly on the TV without paying any extra money.
How Do I Add Channels to Roku?
Installing channels on Roku is simple. You can either do it through the Roku device, Roku app, or simply access the Roku website.
Here are the steps to add channels on the Roku device:
Go to the home menu using device remote
Scroll and click Streaming Channel to access Roku Channel Store
Browse your preferred category or type in channel name in the search field
Click OK to view channel description
Select channel to install
Note: You can select both paid and free channels. Choosing a paid channel will take you to an additional payment step. Here's a quick rundown of the best paid and free Roku channels.
Best Paid Roku Channels
| | |
| --- | --- |
| Hulu | $5.99/mo |
| Netflix | $8.99/mo |
| Amazon Prime Video | $10.99/mo |
| Showtime | $10.99/mo |
| HBO/Now HBO/GO | $14.99/mo |
| ESPN | $4.99/mo |
| VRV | $9.99/mo |
 Best Free Roku Channels
| | |
| --- | --- |
| The Roku Channel | Offers free,live and premium TV |
| Tubi TV | No subscription required |
| Pluto TV | 100+ free channels for sports and news |
| Crackle | Always free movies and series |
| Hoopla | Free movies and TV shows |
| NewsOn | Free local live news |
How to Add Channels Using Roku Mobile App
Be sure first to have a Roku mobile app on your phone then tap to open the Roku account to check if it's linked with the Roku device. In case, if your Roku app is not connected with the device, then here's how to do it:
Go to Home screen
Click where you find Settings
Under Settings, click on System
Under System, click Advanced system settings
Scroll down and click at "Control by mobile apps" or "External Controls"
See on the right side to find "Network access" and set it to Default.
Once your Roku app is fully linked with the device, then follow these steps to add channels:
Adding Channels to Roku Using Mobile App
Launch Roku mobile app
At the bottom of the app, find and click Channels
Under Channels click on the Channel Store
Click the search icon
Select or search channel you wish to add then click "Add channel".
Enter your Roku account PIN, if you have it.
Note: You can install the Roku app on your mobile via both Google Play Store and the Apple App Store.
How to Add Channels from Roku Website
If you don't like to add channels using your mobile app or Roku device, then you can install channels from the Roku website using a laptop/PC. Here's how to add channels via Roku web:
Browse Roku.com on your  laptop
Click where you find Sign in 
Create an account or use your Roku account credentials
Browse channel categories or simply type the channel name you want to add
Click on Details to view channel description
Now, tap on Add channel, and you're done.
Note:  Channels added through the app or web will take up to 24 hours to appear in your channel list. This happens because the Roku device checks system updates every 24 hours. To trigger update immediately, you can follow these steps: Move to Roku device settings > System> System update, tap at "Check Now". 
What are Roku Private/hidden channels and how do I add them?
Roku private/hidden channels can be found on the Roku official channel store. However, these channels are not publicly available. There are various reasons due to which Roku secret channels are not accessible for every user.
Such channels are secret because they contain sensitive content. Others are unofficial third-party channels, and some private channels hold specific membership.
Luckily, there is a way to add Roku secret channels on your device.
Where Do I Find Private Channels to Add to the Roku Device?
A website named "TheNowhere Man" is your door to private channels. Here you can find multiple channels for news, videos, entertainment, and much more.
Each channel comes with a unique code that is required for the installation. Here's how to install private channels on Roku:
Open Roku Website
Sign in using your Roku account details
Go to "My Account Page"
Under Manage account, find and click on "Add a channel"
Now, add your channel's code and click on "Yes, add channel".
Note: Private channels will also not immediately appear in your channels list. If you want to view it right away, then you can follow the same steps outlined above.
Are Roku Private Channels Legal?
Roku Non-Certified channels/apps are not illegal. However, streaming pirated content is illegal. Roku support team doesn't provide any support for the private channels. Plus, you will also receive a warning alert that says Roku will remove the channel without prior notice if any copyright infringement is determined.
How FastestVPN helps you to Stream Safely on Roku
If you want to stream content on the Roku device safely then FastestVPN is the solution to your problem.  With its end-to-end 256 bit encryption, no one can trace your browsing activity.
Smart security features like DNS leak protection and Kill Switch save you from accidental IP leaks. Here's how to setup FastestVPN on Roku.
Not only that, but FastestVPN also unblocks region-restricted content. Some Roku channels are region-restricted. It means that only USA viewers can access those channels. Services like Hulu and Netflix only offer limited content to the viewers outside the USA.
FastestVPN, with its amazing server range of 350+ servers, can help you unblock unlimited content from around the world. If you're not living in the USA, still you can access the entire Netflix USA library effortlessly.
Conclusion
Roku is your door to the most comprehensive entertainment. You can easily add more channels on the Roku device via mobile app, channel store, and Roku website.  The best way to access and stream Roku is to connect to the VPN and safely stream best movies, music, and TV shows.
Take Control of Your Privacy Today!
Unblock websites, access streaming platforms, and bypass ISP monitoring.
Get FastestVPN