Best Ad-Block Tools for Safari
Best Ad-Block Tools for Safari
By Nancy William No Comments 9 minutes
Aren't you tired of constantly having to deal with ads while using Safari? The internet is full of advertisements that constantly flood your screens – can get pretty annoying at times. However, using the best Ad-Block for Safari, you can easily and safely prevent all the ads from flooding your screen while using the Safari browser. In short, it's one way to prevent cross-site tracking.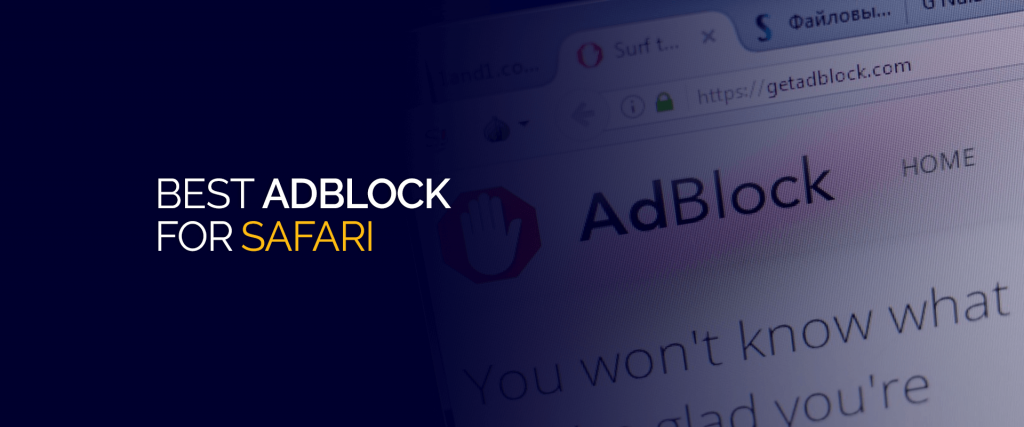 Of course, not every Ad-Block for Safari is reliable, as no browser extension or software, 100% is, but, we've managed to test and list 7 Ad blockers that you can rely on!
What is the best Ad-Block for Safari?
How to install Ad-block browser extension on Safari
For an Ad-block extension on either iOS or macOS, make sure it's got the latest updates along with an updated Safari browser. This is because the extensions only work on Safari 12 onwards. Here's how you can get started:
Open the Safari browser
Click on "Safari Extensions"
The app store should automatically open.
Look for the ad-block that you need for Safari
Click on "Get."
If prompted, sign in to your Apple ID.
The extension will now begin to download.
Click on "Install"
Open the extension and follow the onscreen instructions.
Next, for macOS, click on Safari in the top-right corner.
Click on "Preferences" and then tick the box next to the ad-blocker you downloaded.
How to install the best Ad-block app for Safari
Head to the App Store search for the Ad-block you need for Safari.
Click on "Get" to download and install the app.
Head to the device "Settings" and click on "Safari."
Scroll and click on "Content Blockers."
Tweak around with any of the settings that you like.
How to install the best Ad-block app for Safari on Mac
Head to the Mac Store and look for the Ad-block you want for Safari
Click on "Get" to download the app on your device.
Click on "Install"
Now, click on "Open"
Enable and toggle with the settings according to your preferences.
That's all!
Best Ad-block for Safari in 2021 – Detailed Analysis
Most websites track user activities and then flood their screens with ads, some of which are quite harmful. They do so by using tracking cookies. After considering and testing many ad-blocks for Safari, there are only 7 that we consider safe and reliable for your iOS and macOS. They are:
AdLock – Top choice for the best Safari ad-block
AdLock is by far one of the best and most reliable ad-blockers for Safari on your iOS and macOS. It's also one of the top apps for Android and Windows. Here's what it costs:
$0.81/mo. for 5 years
$2.28/mo. For 1-year
$3.5/mo. for 1 month.
All the plans include access to 5 devices and a 30-day money-back guarantee. It doesn't get better than that.
Adlock is pretty much reasonable for the 5-years plan, since it costs just $0.81/mo. The other plans might be a little more affordable in comparison, but this is one app that works the best for Safari – supporting both macOS and iOS apps.
It's been tested on websites that are commonly flooded with the most apps. From that, we can easily say that it doesn't make any accommodations on the kind of ads it blocks – leaving out none. Makes a pretty decent addition on torrenting sites, and used alongside the best torrenting VPN. Ad-Block even offers a white lister feature that you can use to disable ad-blocking on particular sites.
AdBlock
Known to be one of the more popularly known ad-blockers for iOS, we have AdBlock. It supports Safari flawlessly, even on macOS. AdBlock is a great support for Safari users on both iOS and macOS, considering that it's fast, and extremely reliable to block ads. Plus side is that by removing these ads, it subsequently reduces the web page loading time.
Other than that, it offers a small DNS proxy service that you can use at will. It further adds the function of allowing you to see exactly the kind of websites your device is in coherence with. You are at liberty to toggle any of the settings and apply them on multiple other devices and sync the settings via iCloud.
Magic Lasso AdBlock
Another one of the best Ad-Block for Safari, we have Magic Lasso AdBlock. There's no separate extension available for Safari, but there is a free open-source app with a Safari integration. It supports all Apple devices like your iPhone, Mac, or iPad.
Other than the distinct function of blocking ads while on various websites, the app also blocks any trackers that these websites come with. This way, you'll be protecting your device, data, privacy and miscellaneous ads from reaching you. Need more of its features? Magic Lasso AdBlock offers in-app purchases to its PRO account, which roughly costs around $29.99 for the yearly subscription.
Wipr
Next on the list of the best Ad-blockers for Safari is Wipr. Offering a dedicated app for both iOS and macOS; available exclusively on their respective app stores. It's simple to use, and even simpler to set up and install. Once you run it, it automatically functions in the background while using Safari.
Tired of websites tracking your every move and data? Wipr also deals with that. It actively blocks all website trackers along with ads. It supports Apple devices like iPhone, iPad, iPod touch, and Mac. The app is already free to use, however, if you'd like a better experience using it, there are some in-app purchases that you can make:
Generous Gang – $0.99
Super Generous Tip – $4.99
Generous Tip – $0.99
Very Generous Tip – $1.99
Lavishly Generous League – $4.99
Copiously Generous Crew – $1.99
AdGuard
You may have heard or read about AdGuard on forums or platforms that usually highlight the best Ad-blocks. It's easy to set up; hardly takes any time, and works smoothly on Safari. Adguard even allows you to manage the kind of ads that you'd like to block and which one you don't, and blocks tracking scripts.
AdGuard is both a free open-source Ad-blocker for Safari and other browsers, but it also offers a premium account that you can use on multiple devices. Here are what the packages look like:
Yearly personal (3 devices) – $1.24/mo.
Yearly family (9 devices) – $2.74/mo.
Lifetime personal (3 devices) – $39.99
Lifetime personal (9 devices) – $85
Additionally, AdGuard also offers a VPN service that you can use with the Ad-blocker. It costs around $2.40/mo. for the 1-year plan. However, if that's still not within your budget, you could always use FastestVPN with it. It costs just $0.66/mo. for 5-years + an Internxt storage and a PassHulk password manager for free!
1Blocker X
1Blocker X is the legacy and spruced up version of 1Blocker, with advanced and latest version of features added to it. It's designed to support both iOS and macOS, and supports Safari. You can either stick to the free version called 1Blocker or pay a little extra for the upgrade to 1Blocker X. All you have to pay is the one-time subscription fee of $4.99, which should last you for a very long time.
Adblock Plus
The Adblock Plus ad-block for Safari is a completely different product than AdBlock (mentioned above) – don't get the two confused. It's a free open-source extension that you can add to your Safari browser, supported on both iOS and macOS. The added bonus is that this extension supports other popular browsers like Chrome, Firefox, Edge etc.
It will help you control and monitor the kind of ads you receive on platforms like Amazon, YouTube and countless others. To add to that, you can also enable the "Acceptable Ads" feature to allow certain ads to reach you from websites you trust. The ad block also restricts the direct download of videos or content that you didn't initiate.
However, there have been recent complaints by countless users mentioning that Adblock Plus does not work effectively nor is reliable. With that in mind, you could always skip to another provider on the list.
Use FastestVPN with your Ad-blocker
Some of the ad-blockers for Safari mentioned in the list above are free and open-source. Just because they work to prevent ads doesn't mean the extension or apps are safe for your device and online privacy.
To make your experience on the iOS or macOS safari browser a whole lot better and safer, maybe try pairing it with FastestVPN. It doesn't cost much and allows you to secure your connection, protects you against data leaks, and a whole lot of other perks. FastestVPN even offers a dedicated app for iOS and macOS users.
To conclude
And that's about it! You now have access to the best ad-block for Safari! It should help you get rid of pop-up ads or advertisements that constantly play over the screen while you're streaming on certain platforms. However, keep in mind that some software or extensions when free are often susceptible to cyberattacks. It's why we recommend using FastestVPN with it.

Take Control of Your Privacy Today!
Unblock websites, access streaming platforms, and bypass ISP monitoring.
Get FastestVPN